The cybersecurity industry is growing faster than almost any other tech market right now. According to the latest stats, the global cybersecurity market will be worth $191 billion by 2022. That's a huge jump from its current value of just over $138 billion. This massive growth has led to more and more businesses investing in cybersecurity solutions as a way to protect their networks, data, and users from cyber threats.
As such, there are now plenty of different companies offering new software or services geared toward this sector. With such a large selection to choose from, it can be difficult for companies to determine which company will provide cybersecurity offerings to meet their needs. No matter if you're looking for the best cybersecurity startups or established security vendors, here is a list of some of the top options out there today.
What to Look for in a Cybersecurity Company
There is an extensive variety of cybersecurity companies offering various services to businesses. While there are some essential components in every cybersecurity offering, not every business requires the same amount of protection. In order to cut through the noise and determine which company can most adequately provide services that will meet your needs, it's important to know what to look for. No matter what type of services you're seeking from your provider, the company you choose should meet these important criteria.
Services that Meet Your Cybersecurity Goals
When you invest in cybersecurity services, it's important to know exactly what you hope to accomplish. For instance, are you trying to improve your organization's overall cybersecurity hygiene? Is your organization seeking cybersecurity services that will help you maintain effective security after cloud migration? Are you preparing for new industry compliance regulations? Are you aware of security gaps or other vulnerabilities that put your company at risk?
By defining your goals, you can establish clear questions to ask cybersecurity vendors. Some companies provide services to protect your network but don't have the tools to protect data on the cloud. Many service providers offer managed services that include assistance from professionals in an off-site SOC, but some only implement software. The first step in vetting providers is to make sure the services you need are available.
Experience
With many new companies on the market, it's not always easy to determine if a cybersecurity vendor can meet your company's needs. An experienced cybersecurity vendor will have experience in multiple industries, a specific set of tools and processes, and provide tailored services. Take these steps to learn a cybersecurity vendor's level of experience.
Seek positive reviews from customers in a variety of industries.
Ask for recommendations from other organizations within your industry.
Search for case studies and other indicators of successful projects.
Familiarity with your Industry
The cybersecurity requirements of a manufacturing company are vastly different from those of a financial firm. A cybersecurity vendor with experience in the industry knows the potential risks your company faces and can more effectively provide proactive protection. These vendors are also more likely to be prepared to include regulatory compliance requirements in your cybersecurity plan.
Certifications
Cybersecurity professionals have extensive education to adequately understand the requirements of protecting modern organizational networks. Top-rated cybersecurity professionals typically display vendor-specific certifications and certifications from accredited institutions on their website or other literature. Top IT security certifications include:
CompTIA Security Analyst (CYSA)
Certified Ethical Hacker (CEH v12)
Certified Information Systems Security Professional (CISSP)
Certified Cloud Security Professional CCSP)
CompTIA Security+
Scalability
Successful companies are said to always be growing. Even if your company isn't growing in size, it's most likely growing in complexity. Business networks and practices are always evolving to remain competitive. However, if your cybersecurity solution fails to scale with your business, you could be putting your business at risk. Before choosing a provider, ask how the solution will scale with your company to continue to meet your needs in the future.
Technology Stack
Cybersecurity vendors generally either develop software in-house or combine highly effective software offerings into a ready-to-use tech stack. Cybersecurity is always evolving to stay ahead of new threats, and the tools and software provided by your vendor must provide the most advanced security solutions. Ask potential partners about such technologies as:
Artificial intelligence drive analytics
Cloud-based data storage solutions
Advanced encryption and authentication systems
Behavioral analysis and user profiling
UEBA
Automated monitoring detection and response
Responsive Communication
Typically, organizations seek cybersecurity services from external companies because they don't have the internal knowledge or headcount to provide the services alone. Whether you invest in software products to avoid gaps in security or managed services that include assistance from an off-site SOC, technical problems can arise anytime. A few minutes of downtime can be catastrophic in the landscape of cybersecurity.
When vetting cybersecurity vendors, take the time to ask questions about availability and communication styles. A professional company should be comfortable answering any and all questions you have without attempting to confuse you with professional lingo. Seek a partner that provides 24/7 customer support and can respond to your concerns quickly. The firm should also provide routine reports and incident response reports.
Extensive Knowledge of Regulatory Requirements
Industry regulations are an important part of cybersecurity. Many companies offer tools that can integrate compliance into your cybersecurity platform. The security company you choose should understand the compliance and regulations applicable to your industry, such as:
Health Insurance Portability and Accountability Act (HIPAA)
National Institute of Standards and Technology (NIST)
General Data Protection Regulation (GDPR)
Payment Card Industry Data Security Standards (PCI DSS)
The Different Types of Cybersecurity Companies
Maintaining an in-house security operations center (SOC) is too complex and expensive for most companies to maintain. Managed services from a cybersecurity company can provide comparable cybersecurity at a fraction of the cost. Yet, the services provided by different cybersecurity companies can vary significantly. By learning about the most common types of cybersecurity vendors and managed cybersecurity companies, you can more accurately determine the type of services you need.
MSPs
A managed service provider (MSP) is an external company that manages IT infrastructure and services for an organization. Since MSPs are responsible for managing a company's infrastructure, many network security features are included in the services. Network security is used to manage the structural components of your cybersecurity solution. This might include the firewall, email security, sandboxing, data loss prevention, and access control. MSPs also perform tasks like updates and patches to address potential vulnerabilities. It's important to note that traditional MSP services only cover cybersecurity related to your on-prem network. MSPs usually provide services without the assistance of an off-site SOC.
MSSPs
Managed security service providers (MSSPs) are IT service providers that focus on cybersecurity. They provide network security monitoring and management services that cover the organization's entire IT environment. Many MSSPs offer 24/7 network monitoring services and other functions like vulnerability management and security configuration. Common services provided by MSSPs include managed firewall, intrusion detection, virtual private network, vulnerability scanning, antiviral services, and SIEM monitoring.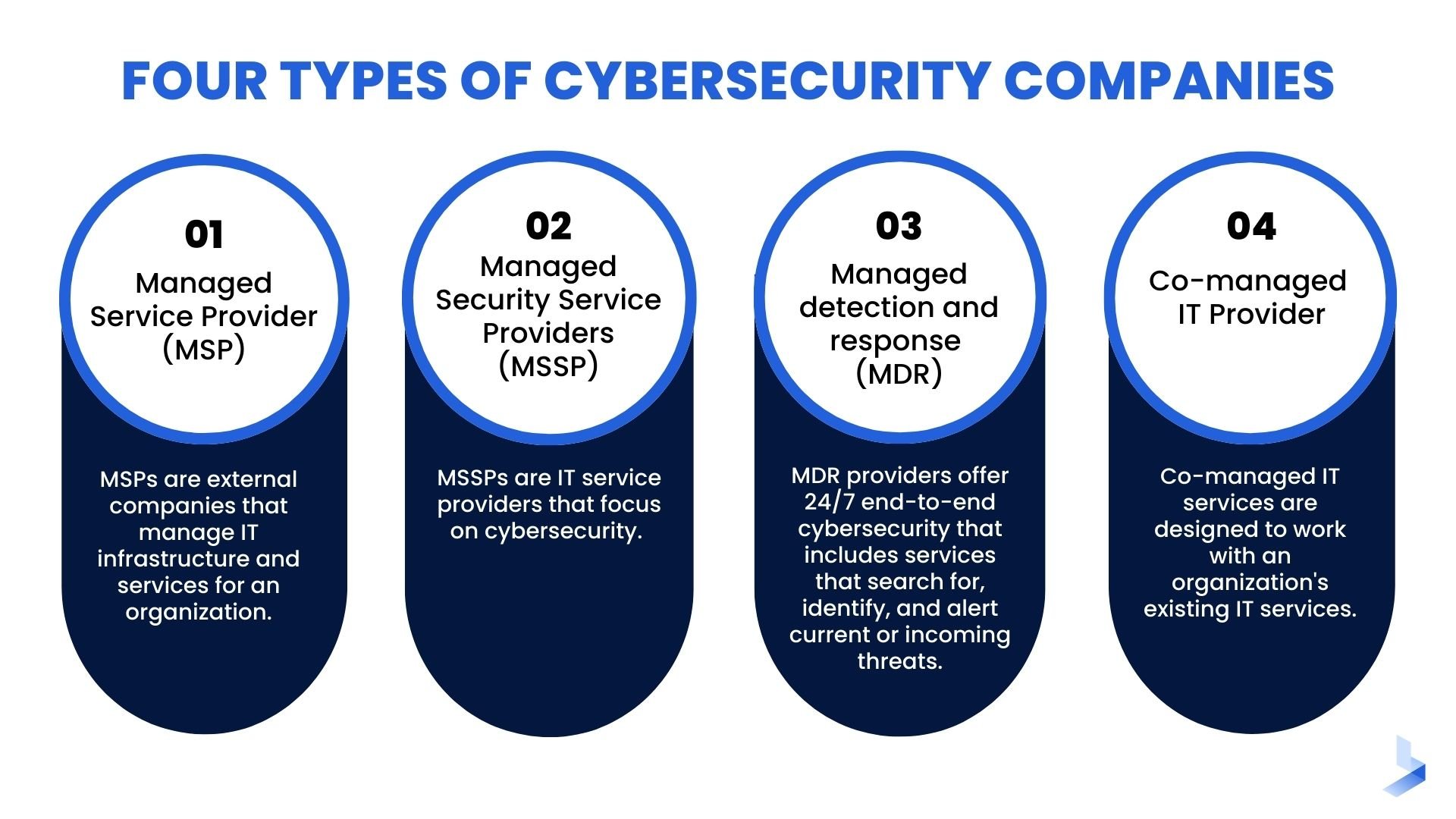 MDRs
Managed detection and response (MDR) provides 24/7 end-to-end cybersecurity that includes services that search for, identify, and alert current or incoming threats. While an MDR is similar to an MSSP in that they both provide cybersecurity services with a variety of tools and services. However, MDR is more proactive in nature. It utilizes the most up-to-date technologies to address modern cyberattacks with integrated tools that work together to provide proactive threat hunting, detection, and response. MDR is human-operated, with live threat hunters monitoring customer networks in real-time for both indicators of attack and indicators of compromise. The most overarching service offered by MDR providers is extended detection and response (XDR)
Co-Managed IT Service Providers
Co-managed IT services are designed to work with an organization's existing IT services. These providers rely on the organization's internal IT team's knowledge to provide supplemental services that can help the company avoid security gaps. An organization with a robust IT team can utilize tailored services to get the most out of the expert knowledge of both teams. Co-Managed services can range from a co-managed SIEM to SOC as a Service (SOCaaS).
Comparing Some of the Best Cybersecurity Companies
To keep up with the modern threat landscape, businesses across all industries require robust cybersecurity defense. As a result, the market for cybersecurity technology has exploded. While this momentum provides companies with a variety of choices, it can also make it difficult to find the solution that best aligns with your organizational needs.
Top-rated cybersecurity vendors build a reputation around providing companies in multiple industries with highly effective cybersecurity. These top cybersecurity companies provide some of the most comprehensive security packages available.
Cisco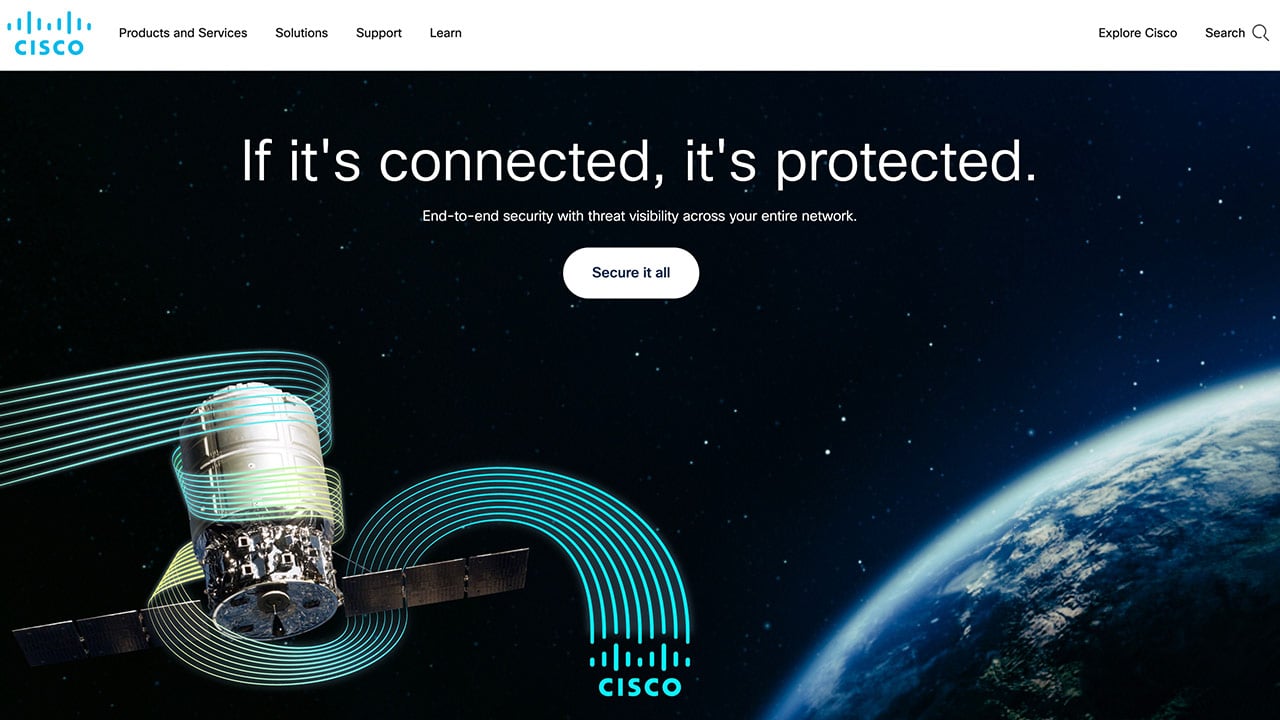 Founded in 1984, Cisco is a software development company that provides its own security platform. Cisco is an MSP that provides a robust collection of cybersecurity products, including:
Next-Gen Firewalls
Next-Gen intrusion prevention
CASB (cloud access security broker)
Web Gateway
Network Access Control (NAC)
Advanced Malware Protection
Email Security
Endpoint Security
Security Management
VPN
Security Services
XDR
---
Darktrace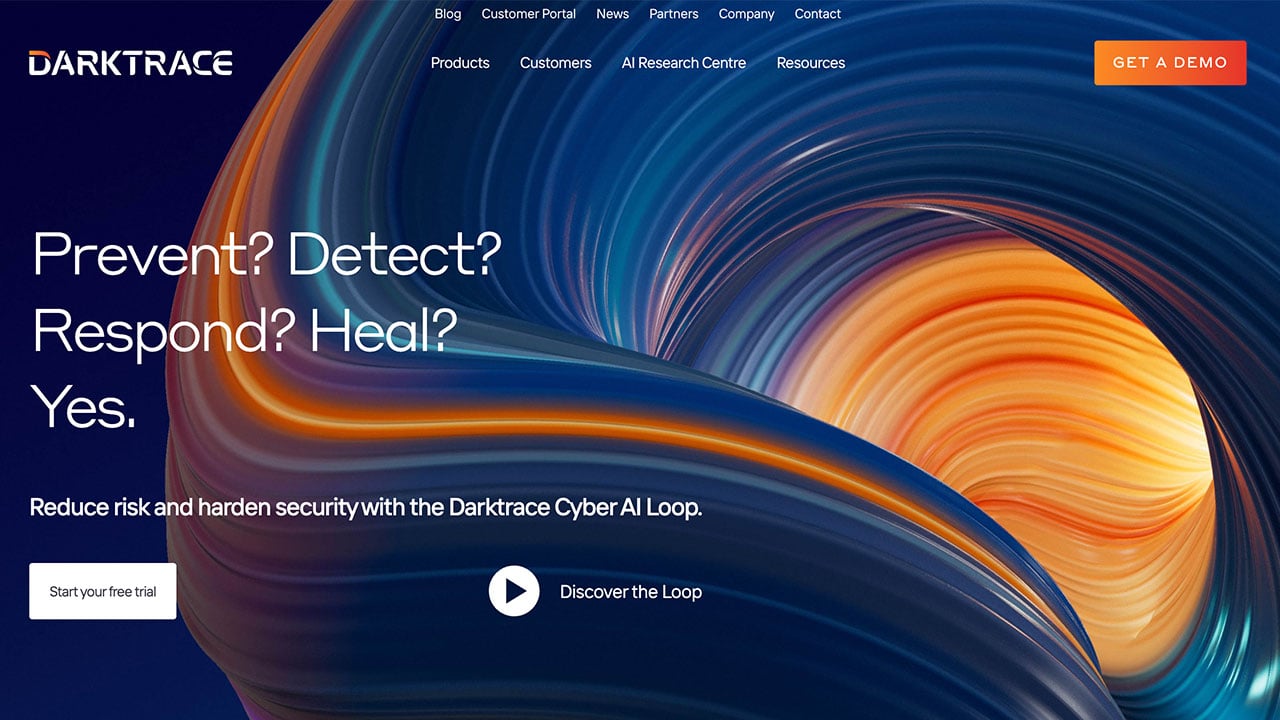 Founded in 2013, Darktrace uses AI to interrupt in-progress cyberattacks. Darktrace is an MSP that specializes in intrusion detection and prevention systems (IDPSs) with broad detection and response capabilities. Product categories supplied by Darktrace include:
AI
Threat Detection
Incident Response
IDPS
---
Rapid7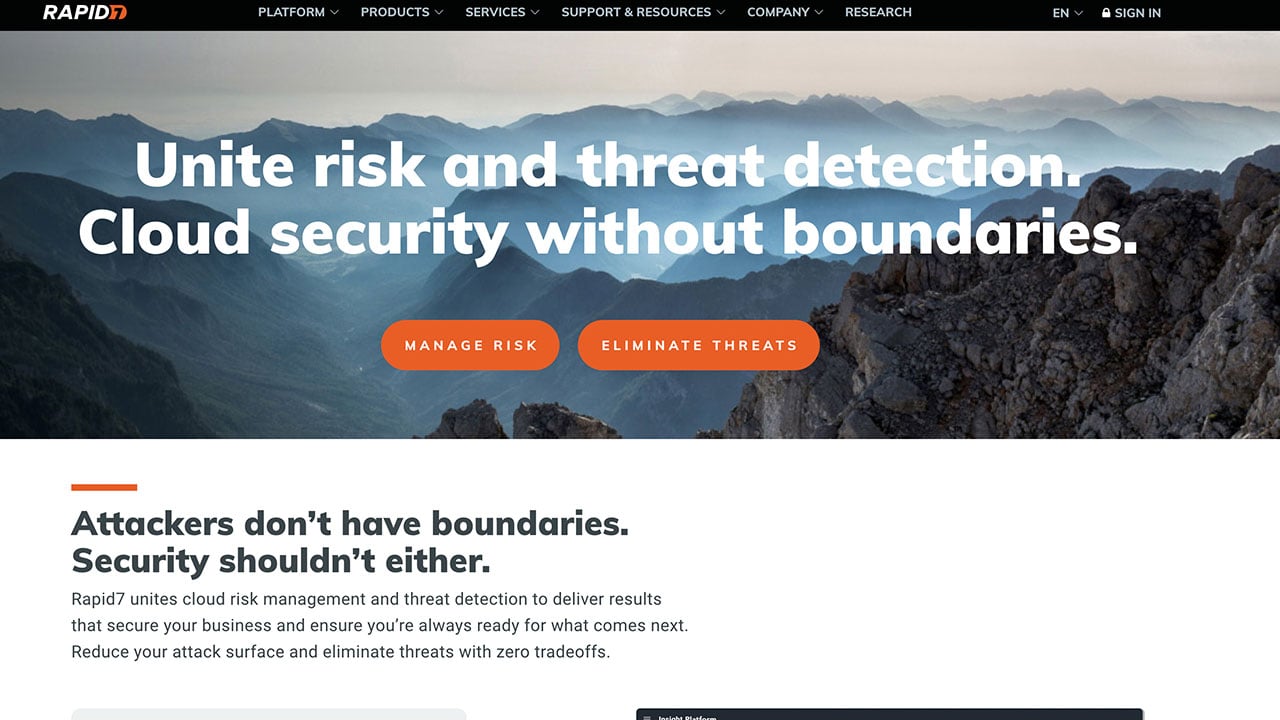 Founded in 2000, Rapid7 is a top cybersecurity vendor with a broad portfolio of cybersecurity products and services. Rapid7 is an MDR provider that utilizes a modern tech stack to manage risk across the entire threat landscape. Product categories supplied by Rapid7 include:
SIEM
Vulnerability Management
Application Security
UEBA
MDR
---
Arctic Wolf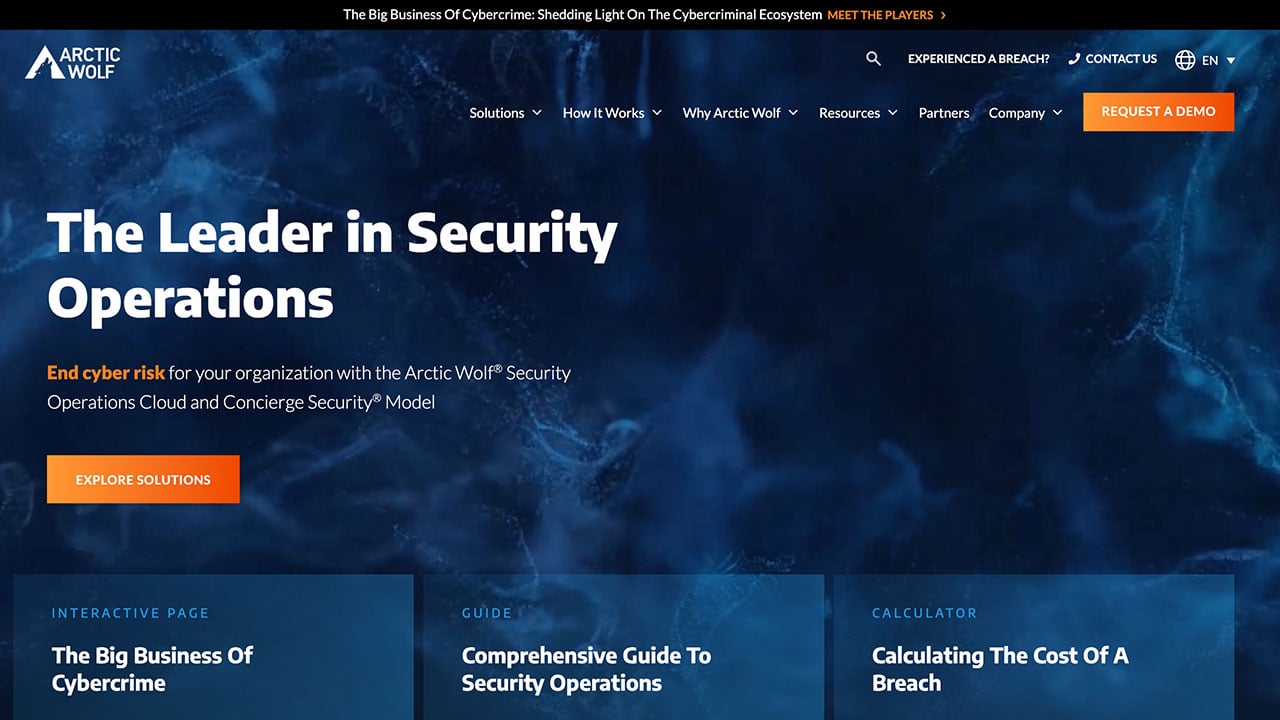 Founded in 2012, Arctic Wolf uses a cloud-native platform to help organizations prevent and mitigate cyber risk. Arctic Wolf is an MDR provider that works to offer end-to-end security with a single platform. Product categories supplied by Arctic Wolf include:
MDR
Cloud Detection and Response
Managed Risk
Managed Security Awareness
Cloud Security Posture Management
---
Crowdstrike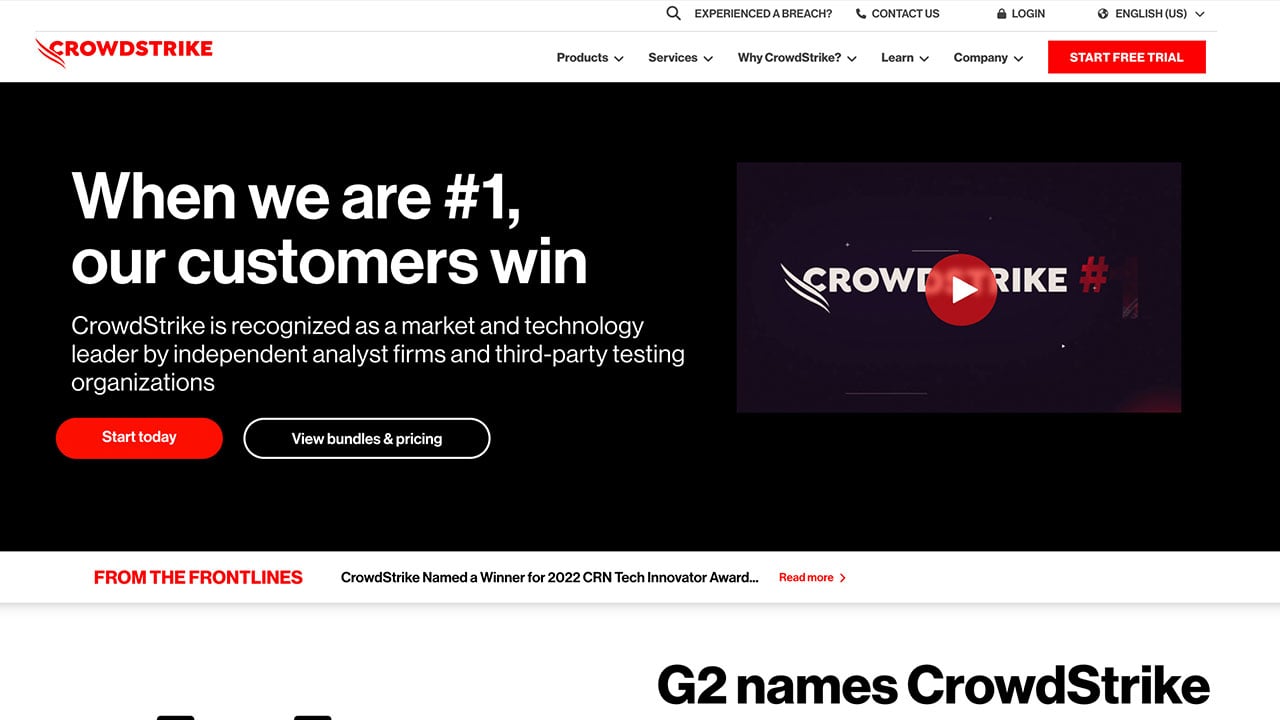 Founded in 2011, Crowdstrike provides cloud-native endpoint protection software. Crowdstrike is a highly successful MSP providing a platform that automatically investigates anomalies and leverages real-time indicators of attack. Product categories provided by Crowdstrike include:
EDR
XDR
Next-Gen AV
Device Control
Firewall Management
---
Palo Alto Networks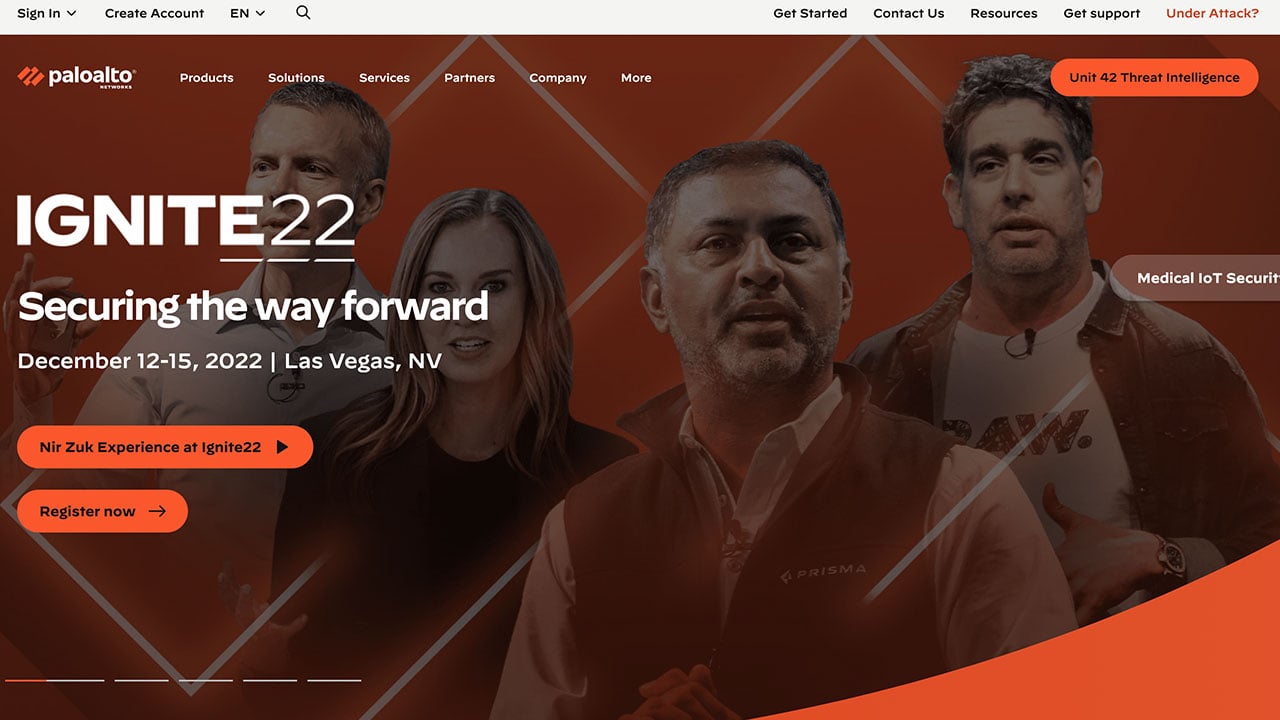 Founded in 2005, Palo Alto Networks provides an integrated platform and a growing ecosystem of partners. Palo Alto is an MDR provider with an expansive collection of next-gen products and services. Product categories provided by Palo Alto Networks include:
Next-Gen Firewall
UEBA
Cloud Security
Endpoint Protection
Threat Detection and Prevention
Application Framework
MDR
XDR
---
BitLyft
Founded in 2016, BitLyft integrates many security products and technologies to provide comprehensive coverage and protection against cyberthreats. BitLyft is an MDR provider specializing in Next-Gen XDR offering an all-inclusive platform that combines innovative technology with the power of people to provide end-to-end protection in a single solution. Product categories provided by BitLyft include:
Next-Gen SIEM powered by Securonix
SOAR automated incident response
UEBA
Central Threat Intelligence that automatically updates each client with proactive protection
Off-site SOC that acts as an extension of your team to detect and remediate threats on your network 24/7/365
Cybersecurity is an essential part of modern business. As the threat landscape continues to grow and change, companies must find adequate services to effectively protect their network against new threats without sacrificing accessibility and convenience. However, the market is crowded with various options and flashy advertising that can make it difficult to find reliable services.
This guide is designed to help companies learn about the options available and research some of the top cybersecurity providers in the industry. BitLyft is an innovative cybersecurity company that acts as a trusted partner for your organization. Learn more about how next-gen XDR can provide your organization with end-to-end protection for every part of your organizational network. Schedule a demo to learn more about our services or get started right away.