MANAGED DETECTION AND RESPONSE FOR PUBLIC UTILITIES
Secure Your Critical Infrastructure with BitLyft's Expertise in MDR Security.

Increase your manpower,
without hiring additional staff

Secure your organization,
without purchasing additional tools

Maximize your budget,
without obtaining additional dollars
THE STATE OF CYBERSECURITY IN PUBLIC UTILITIES:
As an energy company, you're responsible for providing reliable and secure energy services to your customers. However, the energy industry is a prime target for cyber attacks, with critical infrastructure and sensitive data at risk of exposure. With the growing number of cyber threats, it's crucial to prioritize cybersecurity to ensure uninterrupted operations and customer trust.
TOP CYBER THREATS FOR ENERGY PROVIDERS
OPERATIONAL DISRUPTION
Cyber attacks on public utility companies can cause operational disruption, leading to power outages and other service interruptions.
PHYSICAL SECURITY
Cyber attacks on public utility companies can pose a physical threat, as they can compromise the safety and security of critical infrastructure, such as power plants and water treatment facilities.
INSIDER THREATS
Insider threats, whether intentional or accidental, can pose a significant risk to public utility companies, as they have access to sensitive data and critical infrastructure.
KEEP YOUR INFRASTRUCTURE SAFE WITH BITLYFT'S EXPERTISE IN CYBERSECURITY FOR PUBLIC UTILITIES
As a public utility administrator, you understand the importance of protecting your infrastructure and sensitive data from potential cyber threats. At BitLyft, we understand the unique challenges and threats facing public utilities. Our team of experts has years of experience in the industry, giving us the ultimate advantage to help you stay secure. With our comprehensive cybersecurity solution, BitLyft AIR®, we can help you mitigate potential threats and protect against cyber attacks.
BITLYFT AIR®
Managed Detection and Response
BitLyft AIR® is the ultimate solution to protect public utilities. Our Managed Detection and Response (MDR) security service and platform offers holistic protection at an affordable price. By combining innovative automation with our team's expertise, we deliver unparalleled security to keep your infrastructure and sensitive data safe from cyber attacks. With BitLyft, you can rest assured that your public utility is protected against potential cyber threats, all while staying within your budget.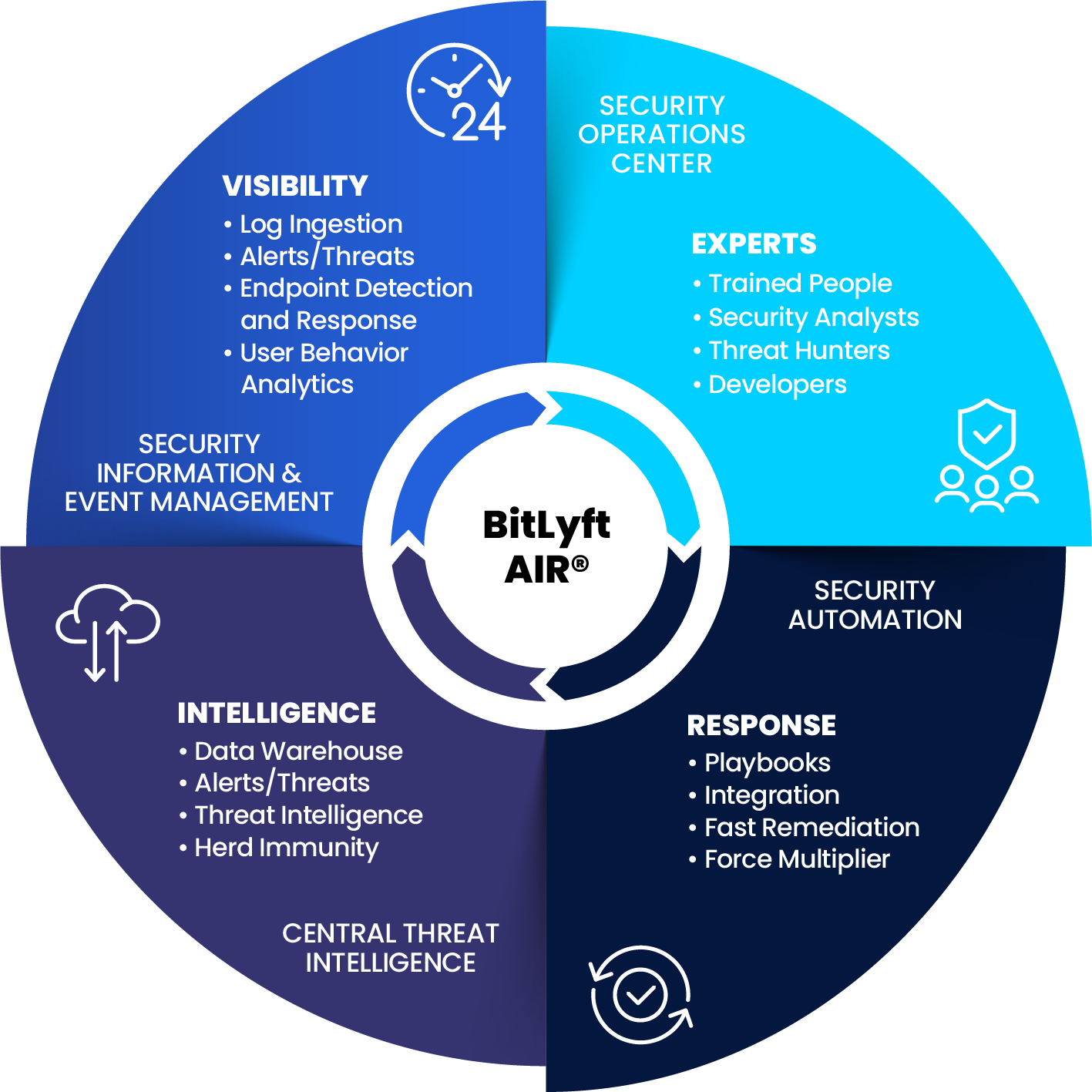 Cybersecurity Resources for Public Utilities
ARE YOU READY TO ENHANCE YOUR ORGANIZATION'S CYBERSECURITY?
Don't let a cyber attack disrupt your energy operations. Protect your critical infrastructure and sensitive data with BitLyft AIR®.