If you're looking to build your cybersecurity infrastructure, one of the things to consider are the people that are going to run your team. And whether you choose to outsource your team or hire them in-house, you'll need to understand the functions of the people who keep your data secure. And one of those people is your SIM Manager.
SIM stands for security information management. It's a vital part of an organization's cybersecurity plan. If you read on, you will discover what responsibilities an information security manager will have within a cybersecurity organization, including their daily tasks are, and what to expect when considering an in-house hire.
An introduction to information security management
An information security manager is responsible for protecting an organization by putting a range of different processes and technologies in place to manage, detect, and prevent cyber security threats. This can include the protection of your programs, networks, data, and computers. Ultimately, it is all about finding the right solutions to protect information at any business.
Broadly, they work to protect the security of their employer, as well as offering advisory services to clients.
The job title may vary. As well as being known as a security information manager, you may also see this sort of job advertised as a cyber intelligence analyst, cyber security analyst, security operations center analyst, an information security consultant, security analyst, or something of a similar nature.
Of course, the job role could differ slightly depending on the company's needs.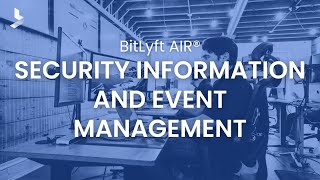 Responsibilities of a security information manager
There are a number of different responsibilities that a security information manager is relied upon for. This includes, but is not limited to, the following:
Giving advice and guidance to employees on issues such as malicious or unwanted emails and spam.
Assisting with creating, maintaining, and delivering cyber security awareness training to colleagues.
Monitoring and responding to pharming activity and phishing emails.
Maintaining an information security risk register and assisting with external and internal audits that relate to information security.
Generating reports for both non-technical and technical members of staff and stakeholders.
Liaising with stakeholders with regards to cybersecurity issues and providing them with future recommendations.
Monitoring access and identity management, including monitoring authorized system users who are abusing their permissions.
Investigating security alerts and providing incident response.
Identifying potential weaknesses and implementing measures, for example, encryption and firewalls.
Engaging in ethical hacking, for example, stimulating security breaches.
Using advanced analytic tools to determine potential gaps and vulnerabilities.
Designing new security systems of grading current ones.
Evaluating and testing security procedures.
Monitoring for illegal, unauthorized, or unusual, as well as intrusions and attacks.
Planning for disaster recovery should a security breach happen.
Researching and evaluating emerging cybersecurity threats and different ways to manage them.
Keeping up-to-date with the latest technology and security developments.
Working hours
Most of the time, a SIM Manager is a full-time security team hire. They work from Monday until Friday, and working hours tend to be roughly 40+ hours per week. However, they may need to work overtime, outside of the typical 9 AM until 5 PM working day, depending on the specific nature of your work, or the projects that you have running.
There are some businesses that may require a SIM Manager to work on a shift basis, which can include weekends, night, and evenings. You may even need a SIM Manager as part of a 24/7 call-out rotation. This is to make sure that there is a quick response to any cybersecurity issues.
It is not common to have a part-time SIM Manager: the need for security is a full-time need. However, you may be able to negotiate flexible working arrangements or outsource your SIM management services if required. It is possible to hire on short-term contract work, especially if you find a consultant, registering as a self-employed individual, or use a larger cybersecurity service.
SIM Manager: In-House Or Outsourced?
There's always a plus to hiring your own people: you can have complete control over who is managing your security information, how they're trained, and how to define success for your organization.
That being said, that comes with a pretty hefty price tag, when it comes to hiring a full-time employee at a competitive salary, and all the training and onboarding that goes along with that.
It is also not unusual for some companies and SIM job roles to demand that SIM managers are security cleared. This is especially the case if you deal with municipalities, utilities, or sensitive information. The compliance training is no small feat either.
Many small to medium-sized businesses may find that an in-house SIM Manager would simply be outside the scope of their budget. In which case, it may be worth considering an outsourced security solution.
BitLyft offers robust and fully comprehensive cybersecurity services with tools like SOC and SIEM to help securely manage all of your sensitive information. If you're interested in partnering with us to deliver top-level service at a fraction of the cost of an in-house team, we'd love to chat about how we can help.