BitLyft AIR®
Security Information and Event Management
Threat intelligence should help stop cyber attacks, not put you in analysis paralysis. With BitLyft AIR®, you get all the benefits of 24/7/365 log collection and monitoring from a SIEM, without all the hassle of having to manage, monitor and maintain your own.


"BitLyft has done a great job of taking over our existing SIEM, tuning the policies that were already in place, creating new policies and monitoring the alerts generated by the SIEM."
What you get with SIEM security
With BitLyft AIR®, you benefit from SIEM security, offering comprehensive insights and real-time analysis of your security alerts.

Versatile Threat Detection
Our approach includes advanced correlation, pattern recognition, blacklisting and whitelisting, and statistical analysis for a comprehensive threat landscape.

User Threat Analytics
Correlates identity and access management information with machine data, providing insights into user behavior and identifying unusual activity.

Network Threat Analytics
Utilizes advanced behavioral analytics and correlation across data sources to detect network anomalies and indicators of compromise.

Endpoint Threat Analytics
Analyzes host logs and data from System Monitors to identify threats targeting endpoints, including unauthorized local accounts, misconfigurations, and changes to access privileges.

Automated Threat Detection
AI-powered analytics helps identify threats swiftly and efficiently, reducing detection and response times.

Optimized Network Security
Network Threat Analytics tools detect network anomalies and compromise indicators, strengthening your defense against network-based threats.

Comprehensive Monitoring
Endpoint, network, and user analytics provide a 360-degree view of potential security threats in the system.

Robust Endpoint Protection
Endpoint Threat Analytics protect your organization's endpoints from compromise by identifying unauthorized local accounts, misconfigurations, and privilege changes.

Enhanced User Security
User Threat Analytics tools help detect unusual user behavior, enhancing the identification and prevention of internal threats.

Data-Driven Decisions
By providing valuable insights into security events, SIEM supports informed strategic decision-making in your cybersecurity operations.
BITLYFT AIR®
Harness the power of SIEM without the complications and hefty price tag of managing it in-house. Our security operations center leverages some of leading SIEM tools, granting you a comprehensive network view. But SIEM is just one facet of BitLyft AIR®. Dive deeper to see the full range of offerings and understand the complete BitLyft AIR® experience.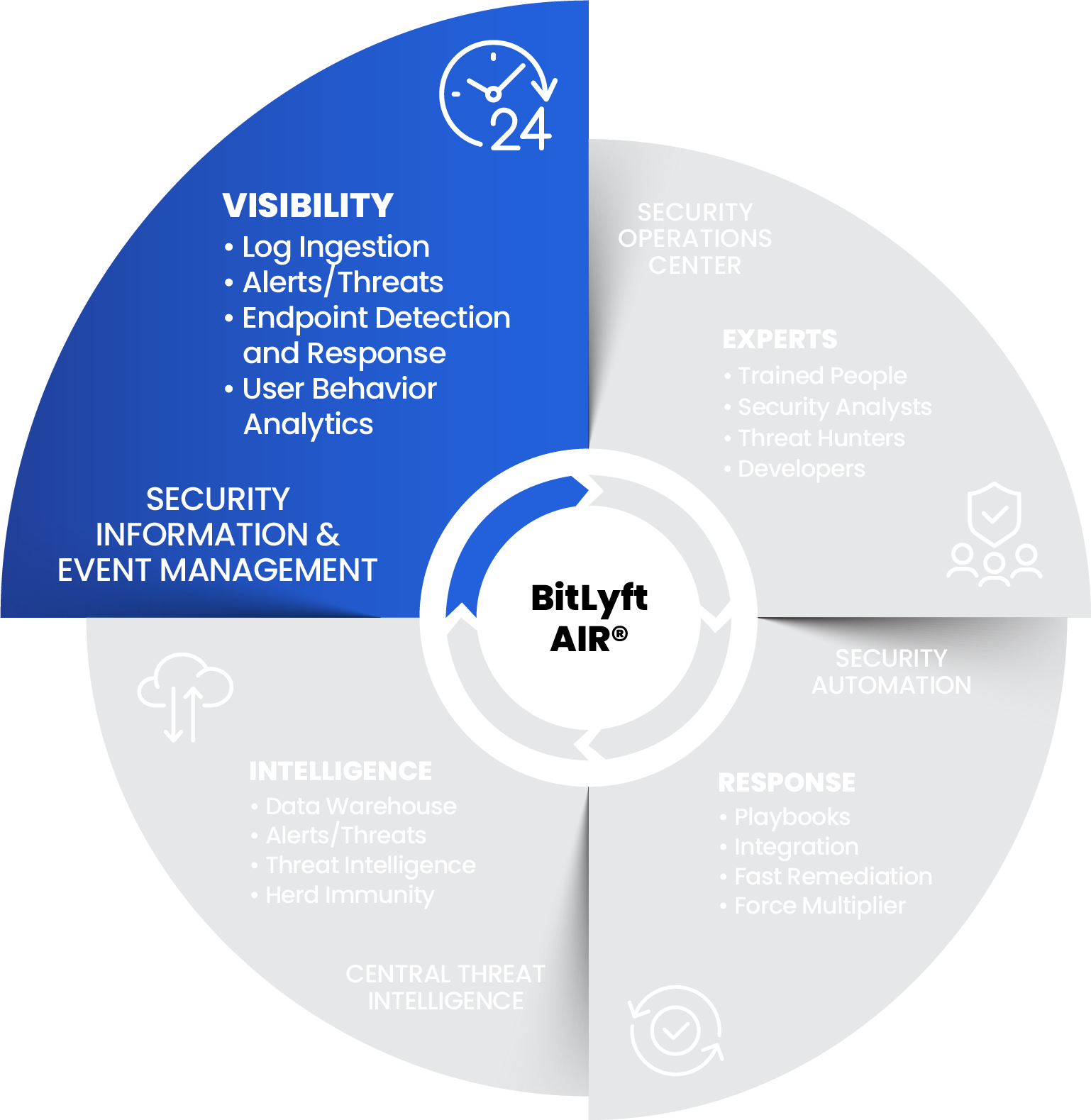 We work with some of the best SIEM tools
Continue learning about SIEM security
SIEM Frequently Asked Questions
Where does BitLyft source its telemetry data from?

BitLyft ingests telemetry data from integrated endpoints, network devices, and cloud resources to ensure comprehensive visibility.

What is your log storage policy?

We store logs for 30 days in hot storage and the remaining 335 days in cold storage, totaling 365 days of log retention.

Can I access the logs?

Yes, our customer's have access to their logs for transparency and in-depth analysis.

How do BitLyft AIR®'s data collectors function?

Data collectors can operate locally or remotely and are centrally monitored and managed to simplify deployment and user experience.
It's time to elevate your SIEM capabilities
Are you ready to experience the full power of BitLyft AIR®? Dive into a demo with an MSSP that truly understands, genuinely cares, and consistently delivers.