MANAGED DETECTION AND RESPONSE FOR HIGHER EDUCATION
Enhance Your Campus Security with MDR Security

Increase your manpower,
without hiring additional staff

Secure your organization,
without purchasing additional tools

Maximize your budget,
without obtaining additional dollars
THE STATE OF CYBERSECURITY IN HIGHER EDUCATION:
As a higher education institution, you are facing unprecedented challenges in protecting your campus from cyber attacks. Hackers are increasingly targeting schools, and the consequences of a breach can be devastating. From personal data breaches to ransomware attacks, the risks are costly and complex. Additionally, the cybersecurity skills gap and budget constraints can make it difficult to stay up to date and prepared.
TOP SECURITY CONCERNS OF COLLEGES AND UNIVERSITIES
COMPLIANCE REQUIREMENTS
Higher ed institutions face challenges in maintaining compliance with numerous regulatory frameworks and standards such as FERPA, HIPAA, PCI-DSS, and GDPR, which can be complex and time-consuming to navigate.
LEGACY SYSTEMS
Legacy systems and outdated software can present significant cybersecurity challenges for higher ed institutions, as they may lack the necessary security updates and patches to address vulnerabilities.
LIMITED RESOURCES
Limited resources, such as IT staff and expertise, can create challenges for higher ed institutions in implementing and maintaining effective cybersecurity measures.
KEEP YOUR CAMPUS SAFE WITH BITLYFT'S EXPERTISE IN HIGHER EDUCATION CYBERSECURITY
As a college or university administrator, you have the weight of the entire campus community on your shoulders. Protecting students, faculty, and staff from potential cyber threats is no easy task. At BitLyft, we understand the unique challenges and threats facing higher education institutions. Our team of experts has years of experience in the industry, giving us the ultimate advantage to help you keep your campus safe. With our comprehensive cybersecurity solution, BitLyft AIR®, we can help you mitigate potential threats and protect against data breaches.
BITLYFT AIR®
Managed Detection and Response
As a higher education institution, protecting your campus community from cyber threats is paramount. BitLyft offers a comprehensive cybersecurity solution that can give you peace of mind. Our Managed Detection and Response (MDR) security service and platform, BitLyft AIR®, offers advanced protection against cyber attacks, combining innovative automation with our team's expertise to deliver unparalleled security to your campus. With BitLyft, you can ensure that your students, faculty, and staff are safe and secure, while also staying within your budget.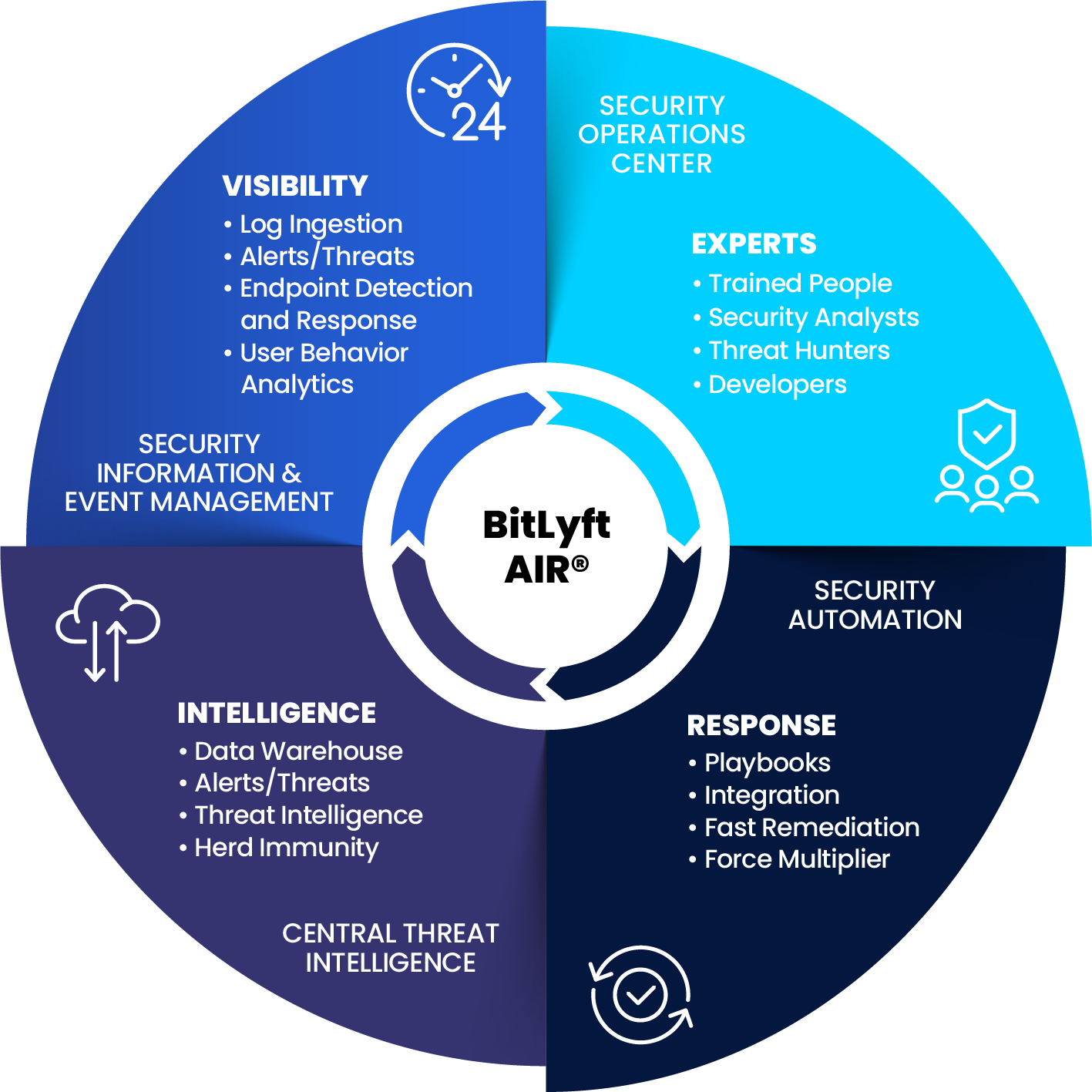 CASE STUDIES: SEE HOW BITLYFT IS HELPING ITS HIGHER EDUCATION CUSTOMERS STAY AHEAD OF CYBER ATTACKS
BitLyft is helping higher education institutions all across the country to strengthen their cybersecurity defenses with managed detection and response. Our case studies highlight real-world scenarios and showcase the impact of our cybersecurity services for higher education institutions.
CASE STUDY: A Security "Team of One" Seeks Help From BitLyft
The challenges:
Limited resources
Lack of expertise

Need for 24/7 monitoring
CASE STUDY: Phishing Attacks Prompt Private University to Seek Cybersecurity Help from BitLyft
The challenges:
Combatting phishing attempts
Staff cuts and l

ack of in-house expertise

Limited resources and network visibility
Cybersecurity Resources for Colleges and Universities
WHAT OUR HIGHER ED CUSTOMERS ARE SAYING
"BitLyft has helped relieve some of the anxiety and stress involved with monitoring the network and making sure compromised accounts are handled correctly."
Information Security Officer,
Higher Education
"Before BitLyft, we would spend hours with multiple departments working on each individual account compromise. But with the help of BitLyft, we've been able to come up with a process that has narrowed that down to reaction before the compromise even happens. "
Director of Infrastructure Operations,
Higher Education
ARE YOU READY TO ENHANCE YOUR CAMPUS'S CYBERSECURITY?
Don't let your institution fall victim to a cyber attack. Protect your students, faculty, and staff with managed detection and response. Book a demo today to see how it works.