A business's security operations center (SOC) is a business unit that contains all of a company's security personnel. These highly trained cybersecurity professionals monitor networks, inform organizational leaders of potential threats, address vulnerabilities, prioritize security operations, and respond to cyberattacks. While a SOC is an essential part of maintaining network security, it has a critical drawback. Maintaining an on-premise SOC is expensive. It requires the annual salary of highly trained cybersecurity professionals, infrastructure, and software required to protect your network.
As businesses consider these expenses along with the issues of a widening talent gap in the cybersecurity sector, many turn to SOC as a Service companies for a solution. SOC as a Service (SOCaaS) is a service provided by an external that manages your internal security in the same way as an on-prem SOC. SOCaaS providers use software and cloud-based services along with support from an experienced team of cybersecurity professionals to provide 24/7 protection against modern cyberthreats. If you're unfamiliar with SOCaaS, these articles can help you learn more about the services they provide.
Clearly, SOCaaS companies can provide value to companies of any size across all industries in today's expansive threat landscape. Still, it can be difficult to know where to start when deciding which company is right for you. This list offers a comparison of the top SOC as a Service companies and profiles the most important features of the services they offer.
Arctic Wolf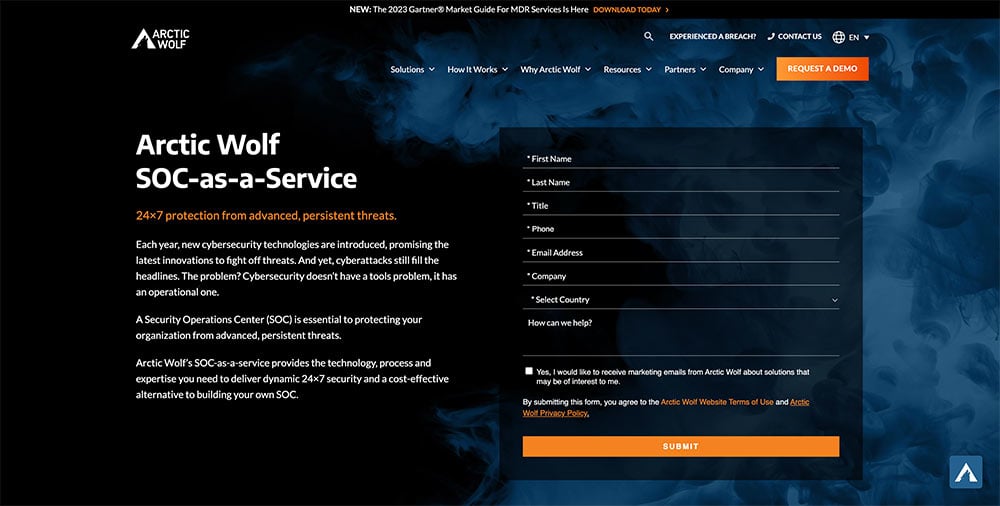 Arctic Wolf SOC as a Service provides 24/7 protection from advanced persistent threats with technology, processes, and expertise supplied by a remote SOC. The platform continuously scans systems to identify vulnerabilities, provided unlimited log ingestion, and provides real-time issue escalation. Arctic Wolf's Concierge Security team works as an extension of your threat intelligence team to keep your business safe from threats in an ever-changing environment
Key Features
Continuous threat monitoring
Proactive threat monitoring
Threat assessment and on-demand remediation guidance
24/7 support from dedicated concierge security teams
Containment capabilities to quarantine incidents before they impact your networks
Pros & Cons
Reviews from Gartner Peer Insights noted these pros and cons of Arctic Wolf managed services.
Pros
Clear communication with SOCaaS team with only actionable notifications
Improved visibility and detection capabilities
Frequent reports
Cons
Certain configurations aren't supported
Limited resources for response actions
Integration can be complex
More expensive than some comparable solutions
Recommended for
Arctic Wolf pricing options range from businesses with 1-50 employees to those with 5,000+, making it a solid choice for small businesses all the way up to large enterprises. Praise for extensive support options from reviewers means Arctic Wolf is likely a good choice for smaller companies or those with minimal security knowledge. The company notes working in the financial, healthcare, government, legal, and manufacturing industries.
Price Range
Arctic Wolf pricing is based directly on the number of users, sensors, and servers in your network. Every plan provides unlimited data collection and storage as well as consistent support from security professionals. Customers need to fill out 4 questions on a form for a custom pricing quote.
Rapid7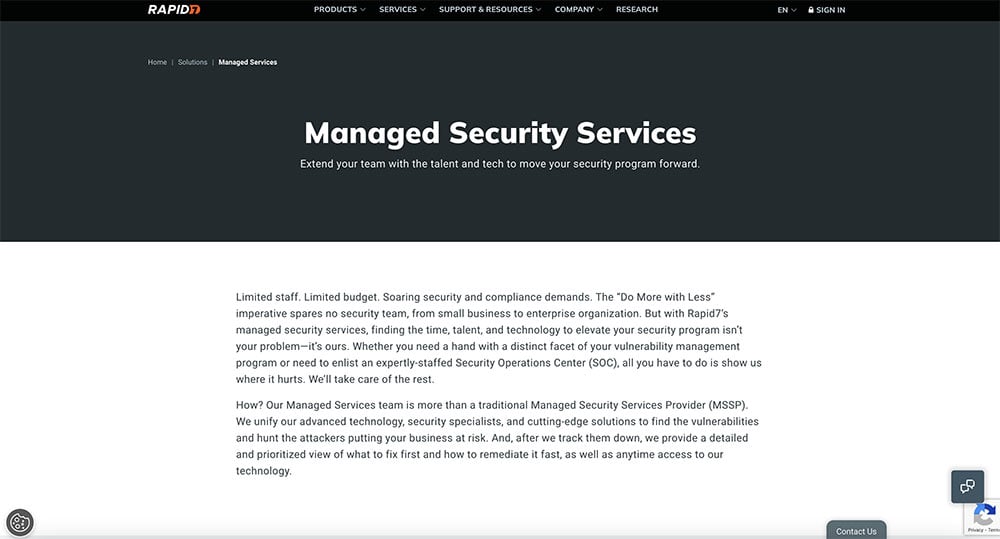 Managed services from Rapid7 fall into three main categories, including managed vulnerability management, managed application security, and managed detection and response. Managed services unify advanced technology, security specialists, and solutions to find vulnerabilities in your network and practices. Services include depend on the service you choose, and may include vulnerability scans, app configuration, and complete MDR services.
Key Features
Vulnerability scans prioritized to your unique risk levels
Automated app configuration and assessment
UEBA for improved threat detection
Support from a team of professionals
Routine reports
Pros & Cons
Reviews from Gartner Peer Insights noted these pros and cons for Rapid7.
Pros
Flexible logging capabilities
Integration with multiple tools
Dedicated security advisor with MDR
Cons
Issues with case escalation and response
Complex user interface
Difficult to implement and deploy
Might have to purchase multiple services for all features
Alert customization can be difficult
Recommended for
Rapid7 has customers in the media, education, finance, government, healthcare, manufacturing technology, and retail sectors. However, 46% of Rapid7 customers are Fortune 100 companies, suggesting that Rapid7 might not be an optimal choice for small to mid-size businesses. Reviewer mentioned that the user interface and deployment are complex, further supporting this theory.
Price Range
Rapid7 pricing is custom quoted for your specific environment size. Pricing is based on the number of assets in your environment.
Reliaquest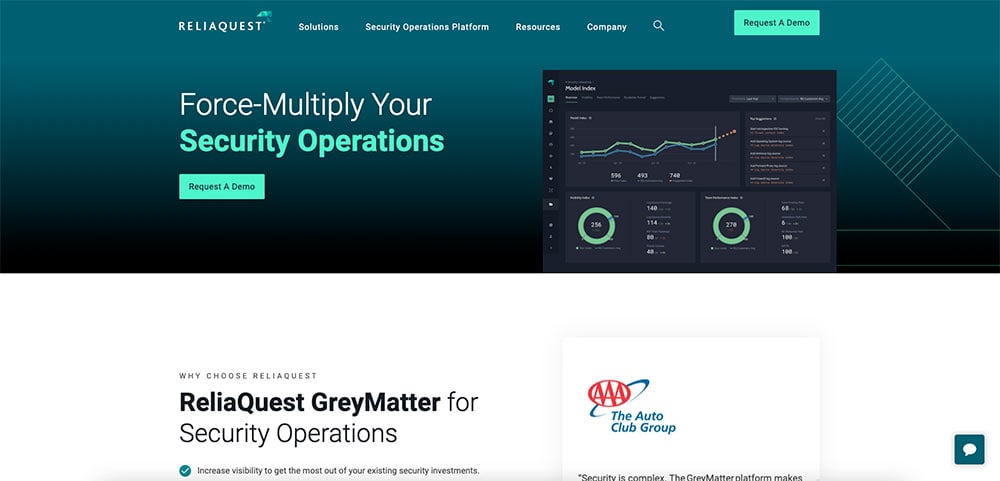 Reliaquest SOC as a Service combines the power of a security operations platform with security expertise for increased visibility and the ability to automate security actions. As a result, businesses can measure and manage risk for continuous improvement. The GreyMatter platform is cloud-native and automates detection, investigation, and response across applications, network tools, and endpoints. The platform offers real-time continuous measurement to map risk, understand coverage gaps, and benchmark performance.
Key Features
Scalable platform includes a dedicated manager and security roadmap
Centrally managed and tuned detections
Bi-directional API integrations into 80+ products and solutions
Comprehensive visibility across your environment
Coverage mapped to the MITRE ATT&CK framework
Pros & Cons
Reviews from Gartner Peer Insights note these pros and cons for Reliaquest GreyMatter.
Pros
Frequent communication
24/7 coverage
Weekly meetings
Cons
Difficulty connecting with some SIEMs
Inability to create workflows
Onboarding process can be slow
Added purchases might be required for complete visibility
Recommended for
Reliaquest is a platform purpose-built to protect enterprise environments from security breaches. It is designed to work across complex environments to provide seamless visibility. Furthermore, several reviews mention a complex onboarding/integration process. As such, Reliaquest is likely to be a best choice for large businesses with multi-cloud environments.
Price Range
Reliaquest offers three managed service plans, each offering additional services above and beyond the lower tier.
Managed: Includes 24/7 security services, detection, investigation, curated advisory services, managed tech integration
Extended: Includes Managed services plus automation playbooks, customer-subscribed threat intel integration, added integrations, threat hunting
Automated: Includes Extended services plus security services, automation capabilities, integrations, and detection, analysis, and response all curated to customer needs.
Each pricing model requires a customized quote.
CrowdStrike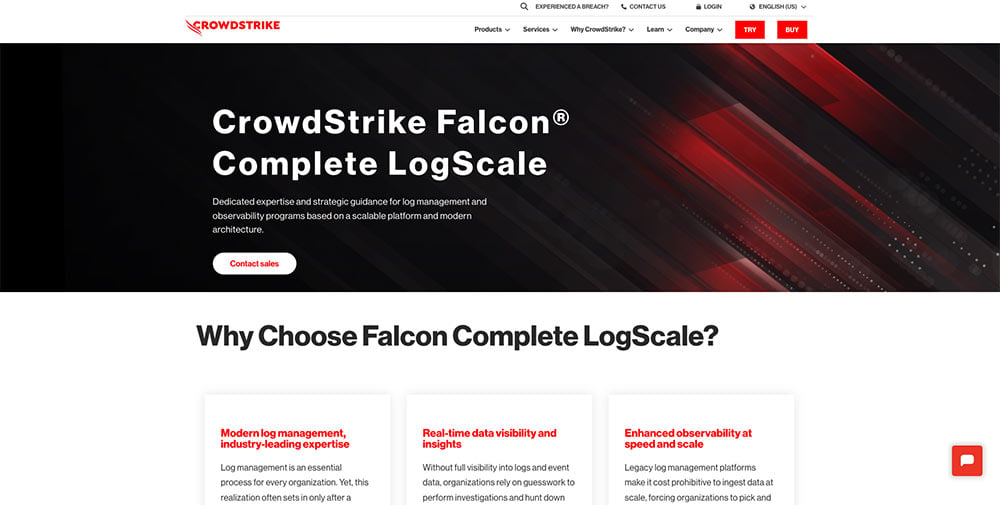 CrowdStrike provides dedicated expertise and strategic guidance for log management and observability programs based on a scalable platform and modern architecture. Customers gain visibility into log data through powerful dashboards and workflows set up by the CrowdStrike team. Live streaming provides you with the capability to carry out investigations and collaborate across departments.
Key Features
Custom content and parsers based on desired business outcomes
Guidance on how to operationalize log data
A team of log management and observability experts that provide deep and continuous analysis
Rapid time to value with simple workflows and expert assistance
Pros & Cons
Reviews from Gartner Peer Insights noted these pros and cons for CrowdStrike Security Services.
Pros
Easy deployment
Minimal resource requirements
Frequent communication
Cons
Creating workflows can be challenging
No way to mass deploy or remove software from client machines
Issues with some integrations
No custom dashboards
Recommended for
CrowdStrike is well-established in the security industry and serves many well-known and Fortune 500 companies. The majority of CrowdStrike's customers fall into the company size of 10,000+ employees and 1,000 - 5,000 employees. As a result, Crowdstrike may be better suited to mid-size and larger enterprises than small businesses. Top industries served include technology, IT, and engineering.
Price Range
Crowdstrike offers four pricing packages that cover its entire service lineup.
Falcon Go: Ransomware, malware, and threat prevention — $299.95 annually
Falcon Pro: Market-leading NGAV and integrated threat intelligence and immediate response — $499.95 annually
Falcon Elite: Full endpoint and identity protection with threat hunting and expanded visibility — Contact for a custom quote
Falcon Complete: Fully managed 24/7 protection for endpoints, cloud workloads, and identities — Contact for a custom quote
Alert Logic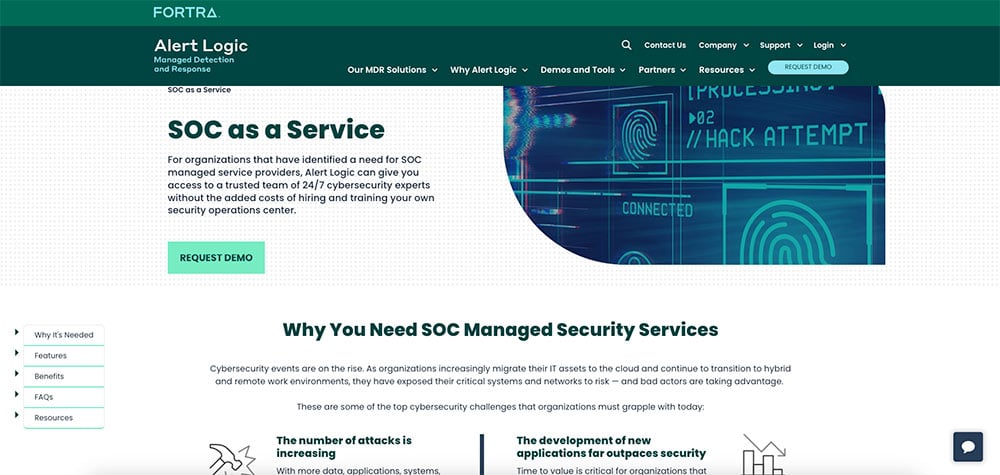 The Alert Logic SOC as a Service offering is a managed security solution designed to provide comprehensive security operations center (SOC) capabilities for businesses of all sizes. It offers 24/7 security monitoring, advanced analytics and machine learning for threat detection and response, incident response services, regular vulnerability assessments, compliance management and reporting, log management and analysis, threat intelligence, cloud-native architecture, and flexible pricing options.
Features
Advanced analytics and machine learning algorithms for threat detection and response
Incident response services to contain and remediate security incidents
Regular vulnerability assessments to identify and prioritize security risks
Compliance management and reporting capabilities to meet regulatory requirements
Log management and analysis to identify potential security threats
Threat intelligence from various sources to provide proactive protection
Cloud-native architecture designed for integration with leading cloud providers
Pros & Cons
Reviews from Gartner Peer Insights note these pros and cons for Carbon Black Cloud.
Pros
Real-time visibility into endpoint activity
User-friendly interface
Quarantine to isolate infected devices
Cons
Too many false positives
Reporting is overwhelming and lacks specific information
Search is not intuitive
Support is not always responsive
Difficulties with integration
Recommended for
Carbon Black's endpoint security software is powerful and flexible enough to meet the needs of any size business. However, the platform is rich with complex features, requiring a dedicated IT department to deploy and manage the solution. For this reason, Carbon Black may be most suited to mid-size and larger companies.
Price Range
Carbon Black pricing is based on customer needs and custom quotes are available through VMware or third-party partners. Pricing depends on factors like the number of endpoints protected and subscription term.
BitLyft Cybersecurity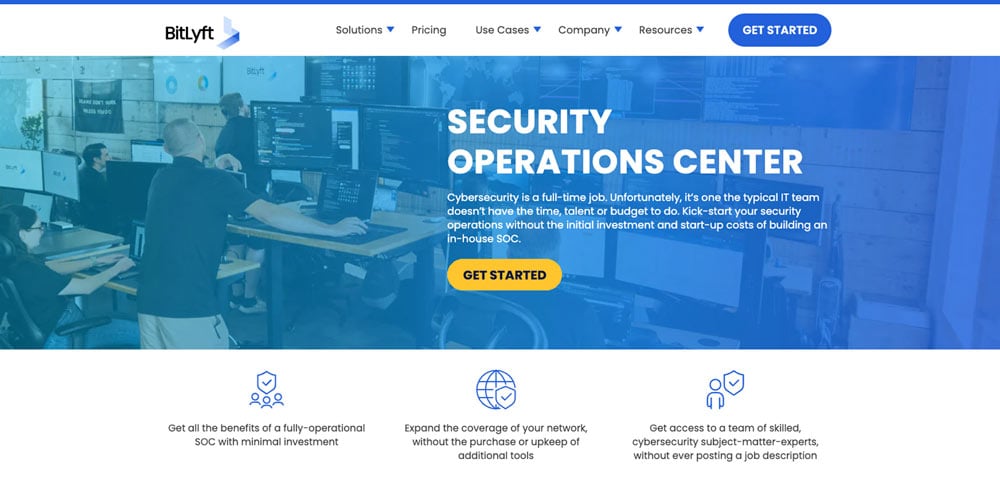 BitLyft AIR® is designed for businesses to leverage the best technology with highly trained security teams to defend against attacks. Services utilize next-gen SIEM technology along with skilled threat hunting provided by experienced cybersecurity professionals. Finely tuned SIEM tools reduce false alarms and reduce noise across your network, making threats easier to identify. Validated alerts, routing threat-hunting services, and remediation advice combine to provide integrated security that keeps your network safe 24/7.
BitLyft AIR® services include SIEM installation and management, regular reporting and check-ins, instant threat remediation, crowdsourced threat feeds, and SOAR technology. Users get access to dashboards and feedback on critical data for informed cybersecurity decisions. The SOC team provides dedicated 24/7 monitoring support and cybersecurity strategy for your IT team.
Key Features
Alarm investigation to tune and refine your cybersecurity tools to reduce false alarms and address real threats
Risk prioritization to ensure investigations and response actions are properly addressed
Scalable pricing so your security measures can grow with your business
Reporting and feedback about the activities and threats in your environment
Assistance to meet legal and regulatory compliance like NIST, CMMC, PCI, GLBA, FISMA, GDRP, NERC-CIP, GDPR, etc.
Pros & Cons
Reviews from Gartner Peer Insights note these pros and cons for BitLyft.
Pros
Complete visibility into the business network
User-focused making it easy to use
Knowledgable, friendly support
Assistance during implementation
Reduced false positives
24/7 security and support
Cons
Limited reporting
Deployment can be challenging for inexperienced users
Recommended for
BitLyft works with a variety of companies to provide comprehensive security for small security teams and large enterprises. Custom support makes the platform a desirable choice for organizations with smaller IT teams. BitLyft's dedication to assisting with many different compliance requirements make the platform a good choice for industries that range from retail to healthcare and everything in between. BitLyft notes significant experience in the education, manufacturing, and energy sectors.
Price Range
BitLyft offers affordable pricing for every business. Plans are charged monthly and vary based on the number of users. Custom quotes and options with added data storage are available upon request.
Up to 250 Users: Starts at $22.99/month
Up to 500 Users: Starts at $19.99/month
Up to 1000 Users: Starts at $15.99/month
Different SOC as a Service offerings allow businesses to gain the advantage of working with experienced cybersecurity teams without the prohibitive costs of the salaries and infrastructure required by an on-prem SOC. In many cases, SOCaaS may be part of a larger security offering like MDR or EDR. To determine which services will best meet your needs, it's best to learn about all of the services provided and how they'll address your organization's unique security concerns. If you're worried you have gaps in security and don't know where to begin, the experts at BitLyft can help. Contact us today to learn more about the benefits of SOCaaS and other managed services designed to keep your organizational network safe from sophisticated cybersecurity threats at a price you can afford.