SIEM, or Security Information and Event Management, solutions are a comprehensive collection of rules and technologies that offer an overall view of your IT infrastructure.
There are many, many reasons for modern companies to provide cybersecurity. A major security breach could cost you so much money you might go out of business. It will also cost you your reputation and trust with your clients and customers.
Related: Managed Security Services, Cybersecurity as a Service
Here are the top 3 reasons to trust your security system to an outside managed SIEM provider rather than trying to handle all of it in-house.
#1. Your IT Team Can Get Overwhelmed
Your IT team has a lot of responsibility. The more you can automate for them the less they have to worry about on a day to day basis. A SIEM service monitors everything in an organization, including blind spots and user activity. It automatically provides the following services and information:
Event and log collection

Dashboards and views of your organization's entire security scope

Field mapping or normalizing data into more readable forms for IT security purposes

Correlating data to offer context and create relationships related to rules, architecture and alerts

Adapting your IT security processes to a wide range of formats, types, compliance requirements, and changes

Reporting and alerting

Log management, often to ensure event logs are stored in a central location to make it easier for IT security staff to find and manage.
#2. It makes your security data much easier to read
Data from different sources and applications often look very different from each other. trying to find correlations between them or to make sense of them in the same context can take a tremendous amount of effort. When SIEM solutions collect and centralize data, they reformat that data into whichever form best suits your IT security team.
#3. They help you react quicker to potential threats
SIEM ensures that your IT security team has their finger on the pulse of different threat intelligence feeds so they can act immediately. SIEM solutions are growing better at recognizing potential threats that often can't be spotted by human effort alone. The data provided by a SIEM allows your IT team to protect you from threats that have yet to happen. Activity in one part of your network might not seem strange but, across multiple parts of it, could be a sign of a security event. Stopping cyberattacks in real-time isn't easy but being alerted to them in real-time gives you a much better chance of managing it.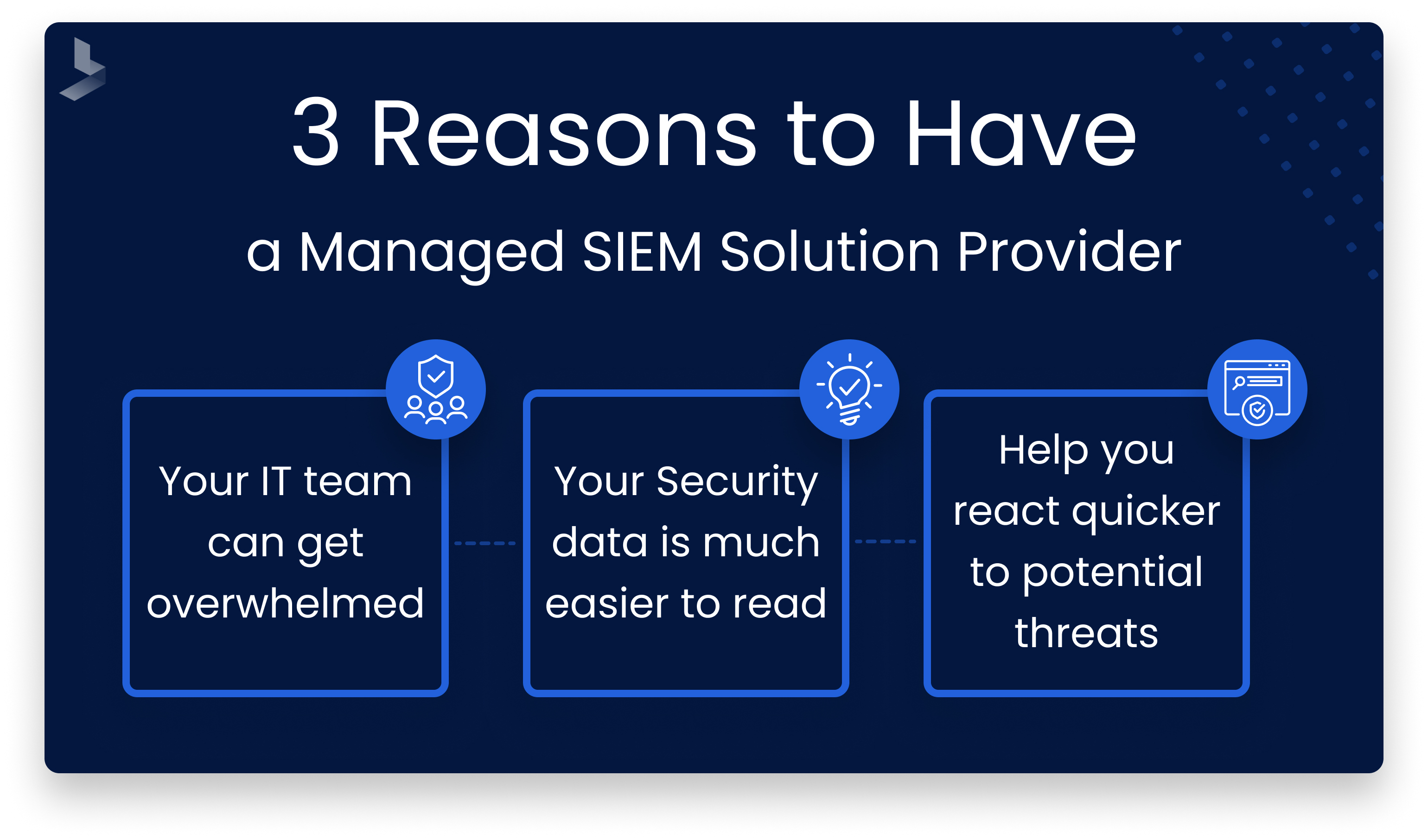 Related: Pros And Cons Of Managed Services
Choosing the right SIEM solution for your organization
The range of benefits mentioned above cover only some of the utility that SIEM solutions can offer your IT security team. If your organization has a large security scope, including a range of devices, apps, SaaS solutions, and networks, or your scope is growing fast, then SIEM solutions may be essential for helping your IT security team manage it all. You will be able to identify and react to security events much quicker, and even have the capability to protect better against newly identified threats that haven't happened yet.
Our services aim to provide you with a simple no-nonsense solution to keep your business safe from online threats. If you'd like to learn more, don't hesitate to get in touch with us today to speak to one of our friendly representatives.
We'll help explain the services we offer and how they can be customized to your exact needs.