BitLyft AIR®
SECURITY AUTOMATION
Transform your incident response with BitLyft AIR®. We actively convert manual security processes into dynamic automation, alleviating operational burdens and enhancing protection against threats.


BitLyft really shines in their responsiveness to my needs as well as their assistance with detection.
What You Get with Security Automation
Managing cybersecurity in-house can be a daunting task, plagued by endless alerts, cumbersome tool integration, data overwhelm, and constant maintenance. Why drown in these complexities? Opt for our advanced security automation solutions which include:

Threat Intelligence Gathering
Automated systems gather and analyze threat data from various sources, providing valuable insights for proactive defense.

Incident Response Automation
Automates the initial stages of incident response, such as alert triage and escalation, allowing faster action on threats.

Case Management
Auto-generates and tracks security cases, ensuring systematic and efficient handling of incidents.

Security Orchestration
Integrates and coordinates disparate security tools for a unified, effective defense strategy.

Automated Reporting
Enables automatic generation of detailed reports, aiding in compliance and providing insights for improvement.

Risk Scoring
Utilizes AI algorithms for risk scoring, helping prioritize threats based on their potential impact.

Sophisticated Playbooks
Designed to perform various tasks from flagging unusual activity to automated threat responses, updated continuously for evolving threats.

Learning System
Continuously learns from each incident, improving threat detection and fine-tuning responses for better efficiency over time.
Key Benefits of Security Automation
Security automation streamlines processes, reduces response times, and ensures consistent, proactive defenses against emerging threats.

Automation Boost
Enhances efficiency by automating repetitive tasks, freeing up resources for more critical functions.

Improved Response Time
Streamlines incident response by automatically prioritizing alerts based on threat level, enabling faster action on critical issues.

Seamless Integration
Integrates into existing security operations, causing minimal disruption to current workflows, while significantly enhancing capability.

Threat Intelligence
Provides actionable threat intelligence, enabling proactive threat hunting and mitigation.

Consistent Processes
Establishes consistent, standardized response processes, reducing the risk of human error in incident management.

Reporting and Metrics
Offers comprehensive reporting and metrics, assisting in performance measurement and continual improvement of security posture.
BITLYFT AIR®
Navigate the challenge of manual, reactive security with the proactive power of automation. BitLyft AIR®'s security automation is an essential facet, streamlining your operations and driving efficiency. But that's just a piece of what BitLyft AIR® offers. Delve deeper to discover the full range of capabilities within our MDR services.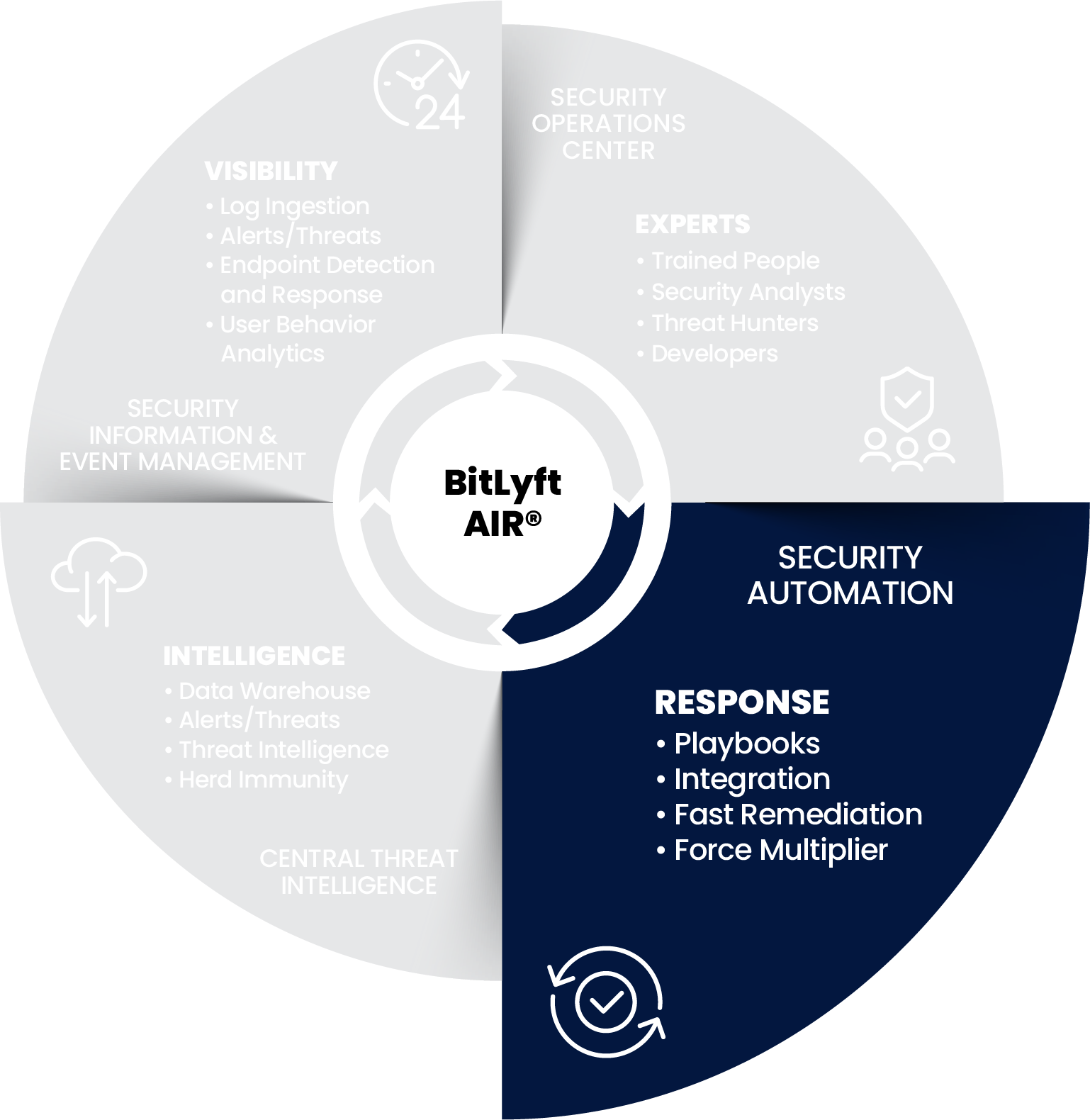 Security Automation Use Case
Does eliminating 1,000 hours per year of manual tasks seem unrealistic? With SOAR security it's completely possible. This use case details the real-life cost savings of using security automation.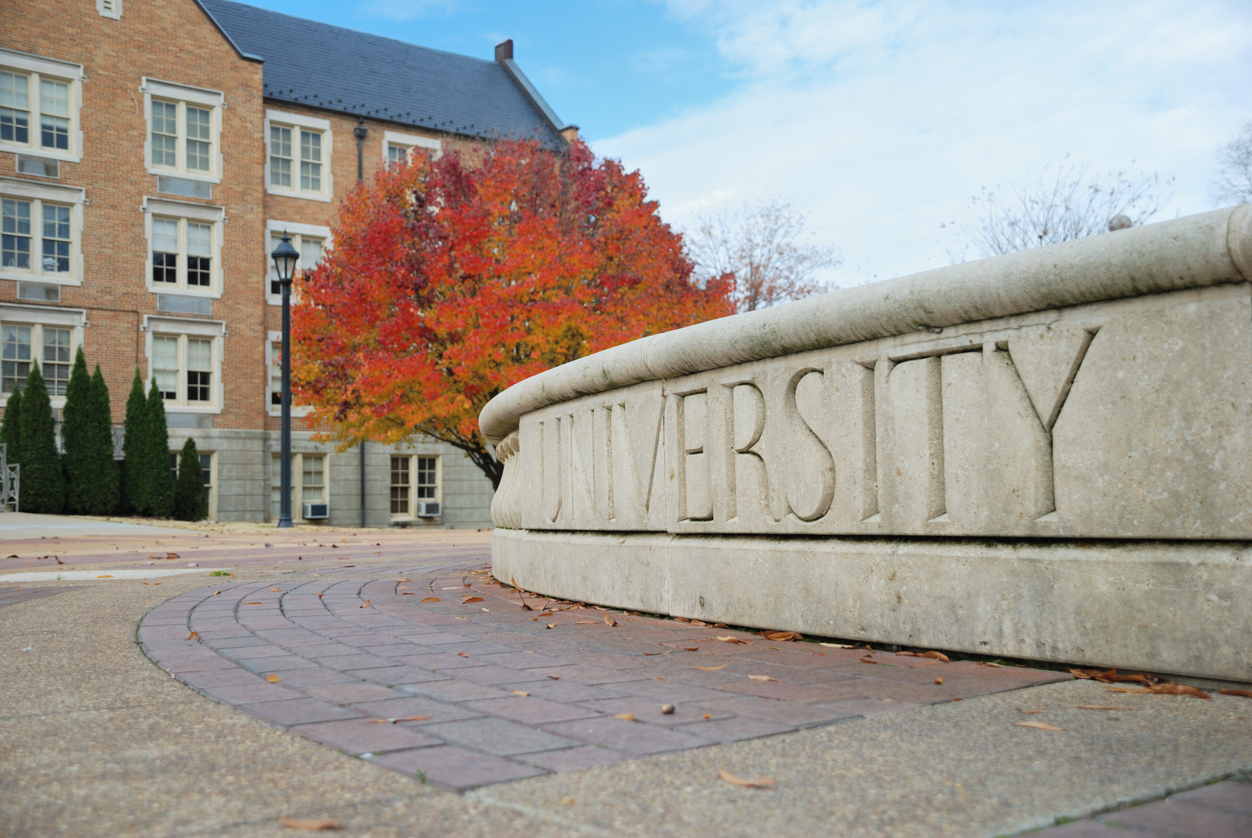 Company Profile
Organization: Higher Education Institution in the Midwest
Number of Employees: 1,300
Number of Students: 13,000
Email Remediation

Remediation Task
Human Remediation Time (Minutes)
Monthly Alarm Activity
Human Time Commitment (Hours)
Reset account credentials
4
30
2.0
Log user out of mailbox
5
45
3.8
Reset AD credentials
3
89
4.5
Check for malicious forwarding rules
7
175
20.4
Disable POP and IMAP
8
34
4.5
Quarantine mail
15
215
53.8

89 hours/month
89 hours/month=1068 hours/year!
Employee time wasted in manual operations: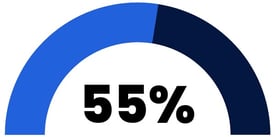 of 160 average working hours
Employee time needed with AIR modules: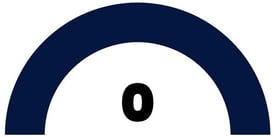 Human remediation time needed
Eliminate Time-Consuming Tasks with BitLyft AIR® Essential Rules and Automations
Save a countless amount of hours, and dollars, with BitLyft's essential rules and automations. With more than 120+ rules in place you can save precious time modifying document privileges, creating new Sharepoint sites and monitoring abnormal files downloaded.
Abnormal number of files downloaded


Abnormal number of files downloaded by an account


Abnormal number of files downloaded compared to past behavior


Modification of Privileges on Documents


New Sharepoint Site Created


Failed Authentication Attempts


Landspeed Anomaly


Multiple failed Authentication Followed by Success


Authentication from rare geolocation


And more!
$3.05 Million
Average cost savings associated with fully deployed security AI and automation
74 Days
The average amount of days a company with AI and automation shortened the breach lifecycle
Continue learning about SOAR Security
Unleash the Potential of Advanced Security Automation
Discover the capabilities of BitLyft AIR®. Engage in a demo with an MSSP committed to understanding your needs, prioritizing your security, and delivering results.