The nature of business is changing to create new network demands in every industry. Organizations of all sizes depend on networks with a plethora of endpoints, cloud-based applications, and remote users to maintain the minimum of business capabilities expected by modern consumers. As a result, networks have hundreds, or even thousands, of potential vulnerabilities that could make companies victim to a catastrophic cyberattack.
Ransomware attacks nearly doubled in 2021. High-profile attacks have created major disruptions to food and oil supplies and brought about an awareness that no industry is immune to the dangers of cybercrime. With the dedicated services of IT and security teams, organizations and employees mastered the challenges of remote work. Yet, the success of remote work is a double-edged sword, contributing to the fact that cybersecurity is the biggest concern for companies globally in 2022.
In an industry already suffering a talent shortage, availability of training for cybersecurity professionals decreased during the pandemic. Leaner teams with increased workloads and longer hours caused burnout among cybersecurity and IT professionals, leading to increased turnover. As the cybersecurity landscape and prevalence of devastating attacks are growing, the means by which businesses and organizations protect themselves are shrinking.
64% of companies worldwide have experienced at least one form of cyberattack. While such attacks make it clear that organizations must understand their level of preparedness for all types of attacks, 66% of CISOs feel their companies are unprepared for a cyberattack. Waiting for an attack to occur to assess your preparedness is not an option. To avoid the devastating effects of a cyberattack on your organization, it's essential to take action now.
Managed detection and response is the most comprehensive solution to address multiple modern cybersecurity issues facing organizations of all sizes. Supplied by a cybersecurity vendor, extended detection and response provides both modern tools and cybersecurity professionals who act as an extension of your team. For many companies, MDR services will be the answer to challenges related to recruiting cybersecurity professionals and the growing vulnerabilities in organizational networks. If your organization's cybersecurity posture keeps you awake at night, it's time to take action. This guide clarifies why MDR is the best solution for modern cybersecurity concerns and the top 9 signs your team needs MDR services.
Why MDR Services?
Designed to protect against modern cybersecurity threats, MDR is the most comprehensive solution available for organizations of all sizes. Companies that take a proactive approach to secure their business will ensure a lower risk of security issues. However, a proactive approach in today's threat landscape requires more than a strong perimeter defense. It's essential to understand what a threat looks like inside your network and the steps required to keep the attack from spreading.
MDR is a collection of services that includes both tools and human expertise to provide a central hub for your complete security solution. Since it's customizable to provide the level of protection you need, it offers businesses large and small a way to effectively eliminate security gaps that hackers can exploit. MDR services provide 24/7 threat monitoring, detection, and response. It immediately addresses security challenges making your network vulnerable to attack and scales to protect against additional concerns as they arise. It is billed as a monthly service so companies can immediately take steps to secure their network without a significant startup cost.
While MDR services can vary, there are certain features that must be included. Many of these mandatory features work to directly protect against major concerns companies are currently facing. All MDR services must offer these key components.
A turnkey service: Rapid time to value is crucial for companies with gaps in security and immediate capability means your overworked team doesn't face the task of optimization.
A fully managed solution that is not a technology and not fully automated: Fully managed services mean your team has the assistance of professionals around the clock and even on holidays. Since the system is not fully automated, you'll experience fewer false alerts.
Includes skilled threat analysis, interpretation, and actionable services: Alerts include context that provides insight into the severity of the threat and next steps for response and remediation.
A wide range of use cases: MDR is not a tool designed with a single capability. It is a range of services designed to protect against all threats.
The capacity to respond quickly and remotely: With cloud-based tools and an off-site SOC, MDR services remotely protect your network with actionable responses to stop quarantine threats and take steps toward remediation.
9 Signs Your Team Needs MDR Services ASAP
For companies attempting to determine the best option to address their cybersecurity needs, it can be challenging to cut through all the noise to understand how any one solution is the right choice. If you're considering MDR services for your organization, the most difficult decision can be to determine when it's finally time to take the leap to MDR implementation.

MDR services offer a host of benefits that can complement your existing security team or provide a complete cybersecurity solution. This level of protection can leave you wondering if it's designed for a business or organization with internal controls in place. Yet, security concerns are growing. You can't afford to be in the group of businesses that might or might not be prepared for an attack. If your organization experienced one or more of these top signs, it's time to implement MDR to effectively protect your business before you face the expense and disruption of a major attack.
1) You Don't Have a Dedicated Cybersecurity Team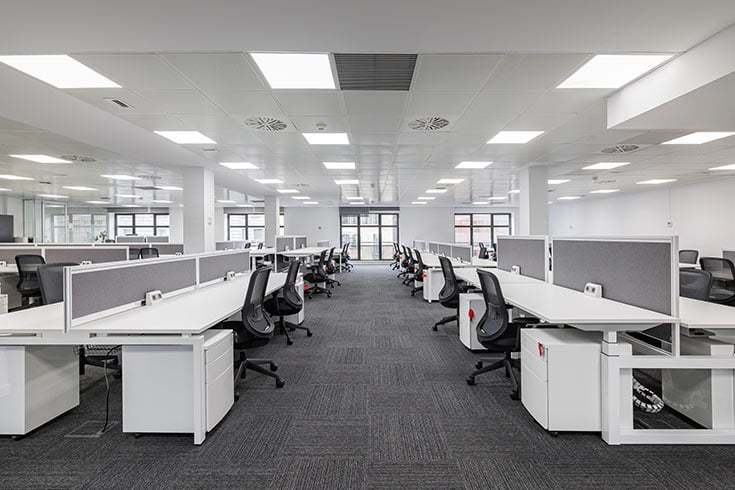 Many organizations depend on a hard-working team of IT professionals to deal with the bulk of tasks that it takes to keep their network running efficiently. These professionals have substantial knowledge about technology and even the levels of security required to keep your network safe from hackers. However, the intended purpose of an IT team is not to provide the constant monitoring required to protect your network against cybersecurity threats. When your IT team is forced to pull double duty as cybersecurity analysts, both levels of service are short-changed.
An IT team that acts as a cybersecurity team is overworked and put in the impossible position of attempting to balance network function with security through the prioritization of tasks. There will always be duties that go uncompleted, and a team under constant high alert will eventually face burnout. Furthermore, IT professionals don't have the same level of cybersecurity training and experience as a dedicated cybersecurity team. As a result, when an incident occurs, you'll likely need to get assistance for a complete resolution.
MDR can provide companies with a full off-site SOC that acts as a partner to your existing IT team. With this assistance, IT professionals can concentrate on providing users with an effective organizational network while a remote cybersecurity team provides full security monitoring, detection, relevant threat reports, and immediate response.
2) 24/7 Security is Not an Option for Your Team
Hackers don't work normal business hours. In fact, the most successful attacks usually occur late at night, during weekends, and on holidays. Cybersecurity is a 24/7/365 business. Humans aren't designed to operate on such an intense schedule.
Even large corporations with a full on-prem SOC rarely have the headcount to run 24-hours a day. Your staff must have time to sleep, eat, and maintain some level of work/life balance. Fully staffed teams can become lean when employees get sick or take a vacation. Even with a full range of tools to cover the security of all devices across your network, without 24/7 monitoring your network is vulnerable to attack.
MDR is designed to provide the level of security you need to protect against potential gaps in internal security. The customizability of these services makes them ideal for companies that have an internal security team but need added headcount for off-hours security. This allows organizations to leave their internal team untouched while increasing cybersecurity headcount without the task of recruitment in a competitive hiring environment.
3) The Team Is Overwhelmed with Security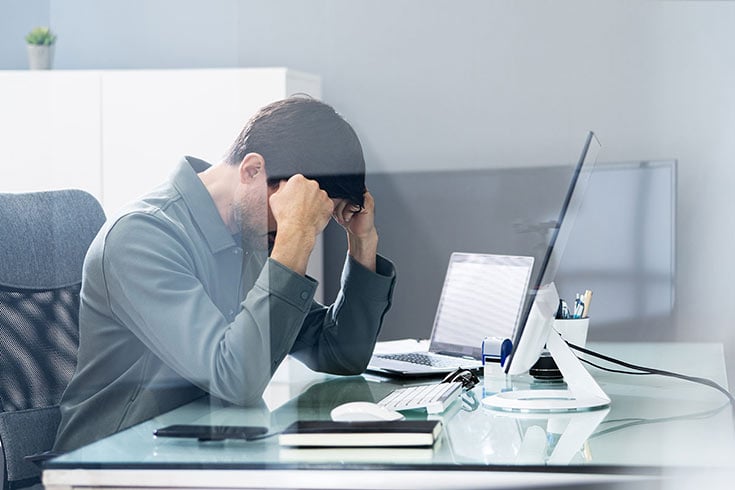 Cybersecurity has long required a full-time commitment from a highly specialized team of experienced professionals. Yet, the cybersecurity landscape has faced monumental changes within a few years' time. Network changes, a dramatic increase in cybercrime, and the effects of a global pandemic have significantly increased the workload placed on IT and cybersecurity professionals. These are just a few of the changes making an impact.
An increase in IoT devices that require additional endpoint detection
Migration to the cloud for data storage, data sharing, and other critical services
Cybercrime sold as-a-service that provides inexperienced individuals without technical knowledge with a way to carry out successful attacks
Remote employees with new cybersecurity requirements
Pandemic related cyberattacks
An increase of attacks that work to exploit human error
Slow and low attacks that allow cybercriminals to move discreetly through a company network without detection
These added burdens and the security tasks that go with them place a significantly higher workload on teams that aren't expanding. As a result, cybersecurity professionals are forced to work longer hours and accomplish more during each hour they work. Teams work in high-stress environments that force them to prioritize tasks by level of perceived importance with incredibly high stakes if a mistake is made. If your team spends every waking hour chasing alerts, your cybersecurity posture isn't at its peak.
MDR offers several features that can help reduce your internal team's workload. With a combination of automated tools and assistance from an off-site SOC, MDR services eliminate much of the manual work of alert prioritization. Instead of receiving a deluge of alerts with the same level of urgency, your team receives alerts that include vital contextual information to describe the relevance of the threat to your organization.
In other words, your team is only faced with alerts about threats that pose a real danger. These services include integrated tools that provide coverage for your entire network, including IoT and remote devices. As a result, MDR addresses many of the tasks that have increased cybersecurity/IT workload in recent years.
4) Your Security Team Is Understaffed
Lean cybersecurity teams are surprisingly common. It's a complex profession carried out in a high-stress environment with consistent growth in demand. As cybersecurity threats exploded as a result of the global pandemic, restrictions resulted in training limitations that led to fewer new employees joining the industry. Small cybersecurity teams became smaller as professionals suffering from burnout left the industry.
Organizations with growing networks and concerns are tasked with the challenge of recruitment, a requirement. Unfortunately with such a limited talent pool, it's not an easy job. 62% of businesses report that their cybersecurity teams are understaffed, and one in five say it takes more than six months to find qualified cybersecurity candidates for open positions. Companies facing critical shortages in cybersecurity are recruiting professionals from other organizations with promises of higher pay and better benefits.
Cybersecurity staff shortages result in an increase in successful cyberattacks. Without a fully staffed team, security analysts have little time to do more than respond to a constant barrage of alerts. As a result, systems are more likely to be misconfigured, there is little time for proper risk assessment, and critical systems are not promptly patched as needed. Simply put, it's impossible for a short-staffed cybersecurity team to complete complex tasks thoroughly. As a result, teams are unaware of active threats against the network.
MDR is especially beneficial to SMBs because it provides a way to immediately increase your cybersecurity headcount without changing your internal team. Organizations don't have to face the challenges and expense of hiring new employees or the time required for onboarding and training. Working in conjunction with an off-site team of security professionals offers small and understaffed security teams ongoing support and routine communication for improving security posture.
5) The Team Is Overwhelmed by Alert Fatigue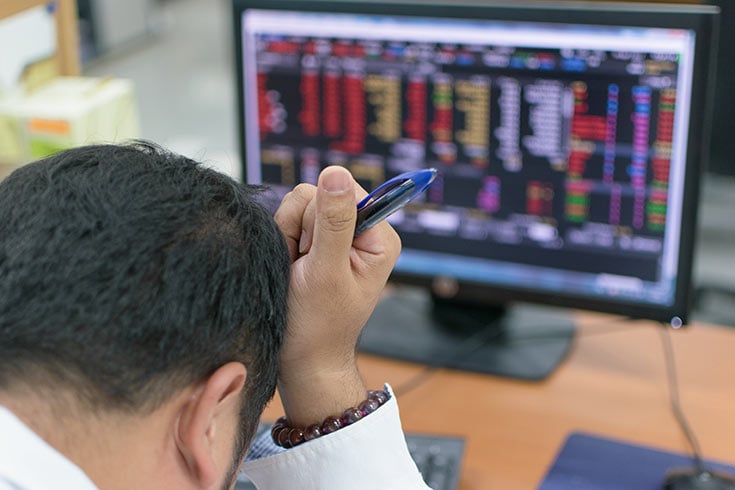 As cybersecurity threats increase and organizational networks grow to include more devices and endpoints, cybersecurity and IT teams often invest in more tools to close gaps in security. While this seems like a reasonable solution at the outset, security teams can quickly become overwhelmed by more tools than can properly be managed.
Automated tools send out alerts based on specific criteria. Yet, not all alerts are relevant to your security. All cybersecurity teams receive hundreds of false alerts for various reasons. Some false alerts are a result of disjointed systems sending an alert for the same potential threat.
For example, a cybersecurity team with 50 different tools that aren't properly integrated may receive 50 notifications of the same activity. Other false alerts come from poorly optimized systems or irrelevant threats. Teams facing hundreds of false alerts each day grow numb to the reality of existing threats. When overwhelmed with more potential risks than can possibly be followed up on, teams overlook real attacks that can damage the network.
MDR directly addresses alert fatigue with prioritization based on the type of threat, its potential impact, and other factors. As a result, your team only receives notifications about threats that are truly relevant to the security of your organization. Along with the reduction of alerts, the ones you receive include contextual information that describes the scope of the incident and how to contain it.
6) Team Members Are Showing Signs of Burnout
Burnout is defined as a syndrome resulting from chronic workplace stress that has not been successfully managed. Since cybersecurity is such a high-stress profession, professionals in the industry are already at high risk for burnout. In many industries, burnout leads to lower production and reduced performance. Burnout in cybersecurity can lead to critical errors that leave the organizations they work for vulnerable to attack.
Symptoms of burnout include:
Exhaustion
Negative feelings and mental distance toward the job
Reduced performance like increased mistakes
Indifference
Turnover
If your team is feeling the effects of burnout, security breaches and turnover are not far behind. By addressing burnout before it creates a critical error for your organization, you can avoid damage related to a successful attack. MDR increases the headcount of your cybersecurity team and provides a preconfigured security stack designed to reduce the manual workload for your cybersecurity team.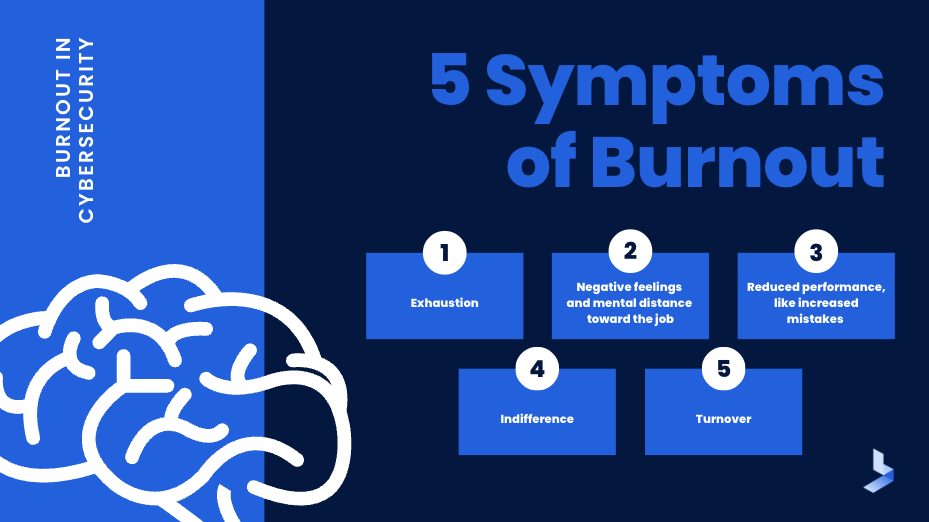 7) Your Organization Is Facing New Regulations
Companies across all industries are required to meet certain security regulations to protect the sensitive data of customers and employees as well as government-controlled information. While medical facilities are familiar with HIPAA and educational institutions subject to GBLA requirements, regulations are frequently updated to address new threats.
Organizations working toward compliance certifications required to maintain their current level of business will need to prove their cybersecurity readiness. To accomplish this, specific cybersecurity protocols will need to be put in place. If you're uncertain about your team's ability to meet certification requirements by upcoming deadlines, your organization could face substantial financial disruptions if security requirements aren't met.
While MDR doesn't place compliance as a top priority, the services are designed to improve your cybersecurity posture in a way that naturally leads to compliance. MDR services are customized in a way that is designed to meet the needs of your unique organization. To provide those services your vendor will consider your current cybersecurity posture and your cybersecurity goals, then address the gap between them.
8) Organizational Security Systems Don't Work Together
Effective cybersecurity requires complete insight into all activities that take place in your network. While many cybersecurity tools provide dashboards and other tools designed for visibility, poor integration can significantly impact clarity. Many internal teams depend on multiple tools to address different cybersecurity concerns. When these tools aren't properly integrated to work together, they can require extra work and even impact the performance of each other.
The networks of modern enterprises are spread across internal devices, remote devices, and other endpoints that each require security. If your team uses 20 tools or more that aren't fully integrated, it's impossible to see the big picture. Tools and systems that don't work in tandem can lead to redundant alerts and more maintenance for your team.
MDR provides an end-to-end service for complete network protection. With a preconfigured security stack created or compiled by your vendor, your team has complete visibility into the entire network from one user-friendly dashboard. Your vendor's off-site SOC has the same visibility to provide you with professional monitoring and response 24/7.
9) You're Always Reacting
The average time to detect a breach in 2021 was 212 days, with an added 75 days to contain it. The fact that you can't see a threat doesn't mean it's not there. Threat response is critical to effective remediation, but timely detection is even more important. Sophisticated hackers access systems through difficult-to-detect methods like phishing and business email compromise.
Once inside the network, these threat actors take their time moving discreetly through an organizational network to plan a large-scale attack. If your team is only reacting to threats, it's typically too late to stop a major attack in time to avoid substantial network damage and a massive expense to the organization.
MDR services provide proactive security with 24/7 monitoring and tools designed to recognize activity typically related to criminal behavior. With modern tools like event log management, behavior analytics, vulnerability management, and crowd-sourced information, you can recognize an attack in progress and quarantine it before damage to the network occurs.
Eliminate Daily Stresses Overwhelming Your Cybersecurity Team with MDR
300,000 new pieces of malware are created daily, and a new attack occurs somewhere on the web every 39 seconds. Yet, two-thirds of organizations don't know if they're prepared for a cyberattack. Cybersecurity is a stressful occupation with a workload that grows daily. Overworked IT and security professionals are experiencing extreme levels of stress and burnout as a result. Waiting until an attack occurs to assess your readiness to respond is too late. Many organizations never fully recover from a major attack.
If one or more of the signs above accurately describes your organization's security posture, it's time for a change. BitLyft AIR® offers 24/7/365 security that increases your organization's cybersecurity headcount without affecting your internal team. You can immediately improve your cybersecurity posture and eliminate much of your day-to-day stress. Learn more about the comprehensive security provided by MDR and how BitLyft can help you empower your IT and cybersecurity professionals.
Sources:
1. https://connectedworld.com/cybersecurity-tops-business-risks-in-2022/
2. https://techjury.net/blog/how-many-cyber-attacks-per-day/#gref
3. https://www.financierworldwide.com/fw-news/2021/5/13/firms-unprepared-for-cyber-attacks-report
4. https://www.isaca.org/why-isaca/about-us/newsroom/press-releases/2022/state-of-the-cybersecurity-workforce-new-isaca-research-shows-retention-difficulties-in-years
5. https://www.secureworld.io/industry-news/cost-of-a-data-breach