MANAGED DETECTION AND RESPONSE FOR BANKING
Enhance Your Financial Institution's Security with MDR Services

Increase your manpower,
without hiring additional staff

Secure your organization,
without purchasing additional tools

Maximize your budget,
without obtaining additional dollars
THE STATE OF BANK CYBERSECURITY:
Banks are facing unprecedented challenges in safeguarding their digital infrastructure from cyber attacks. With the expanding landscape of online banking and the increasing risks of fraudulent transactions, extortion, and denial of service attacks, the entire financial sector is under threat. These challenges impact all aspects of the banking ecosystem, from established institutions to their customers. Additionally, the cybersecurity skills gap, budget constraints, and the critical need to address security vulnerabilities in a rapidly evolving environment make it difficult to stay up to date and prepared.
TOP SECURITY CONCERNS OF BANKS
RANSOMWARE ATTACKS
Cybercriminals can lock down a bank's critical systems, demanding ransom payments to restore access, causing significant operational disruptions.
INSIDER THREATS
Malicious or negligent employees may compromise security measures, exposing confidential data or facilitating unauthorized transactions.
PHISHING ATTACKS
Cybercriminals often target bank employees and customers using deceptive emails or messages, aiming to steal login credentials or install malware on their devices.
KEEP YOUR FINANCIAL INSTITUTION SAFE WITH BITLYFT'S EXPERTISE IN BANK CYBERSECURITY
As a banking professional, you have a critical responsibility to protect sensitive financial customer data from potential cyber attacks. At BitLyft, we understand the unique challenges and threats facing the banking industry. Our experienced team can provide comprehensive cybersecurity solutions, including our managed detection and response service BitLyft AIR®, to mitigate potential threats and protect against data breaches.
Managed Detection and Response
BITLYFT AIR®
As a banking institution, safeguarding your customers, employees, and sensitive financial data from cyber threats is of paramount importance. BitLyft offers a comprehensive cybersecurity solution tailored to the needs of the banking industry, providing you with peace of mind. Our Managed Detection and Response (MDR) security service and platform, BitLyft AIR®, delivers advanced protection against cyber attacks, combining state-of-the-art automation with our team's expertise to ensure exceptional security for your financial institution. With BitLyft, you can ensure the safety and security of your customers, staff, and critical data, while effectively managing costs.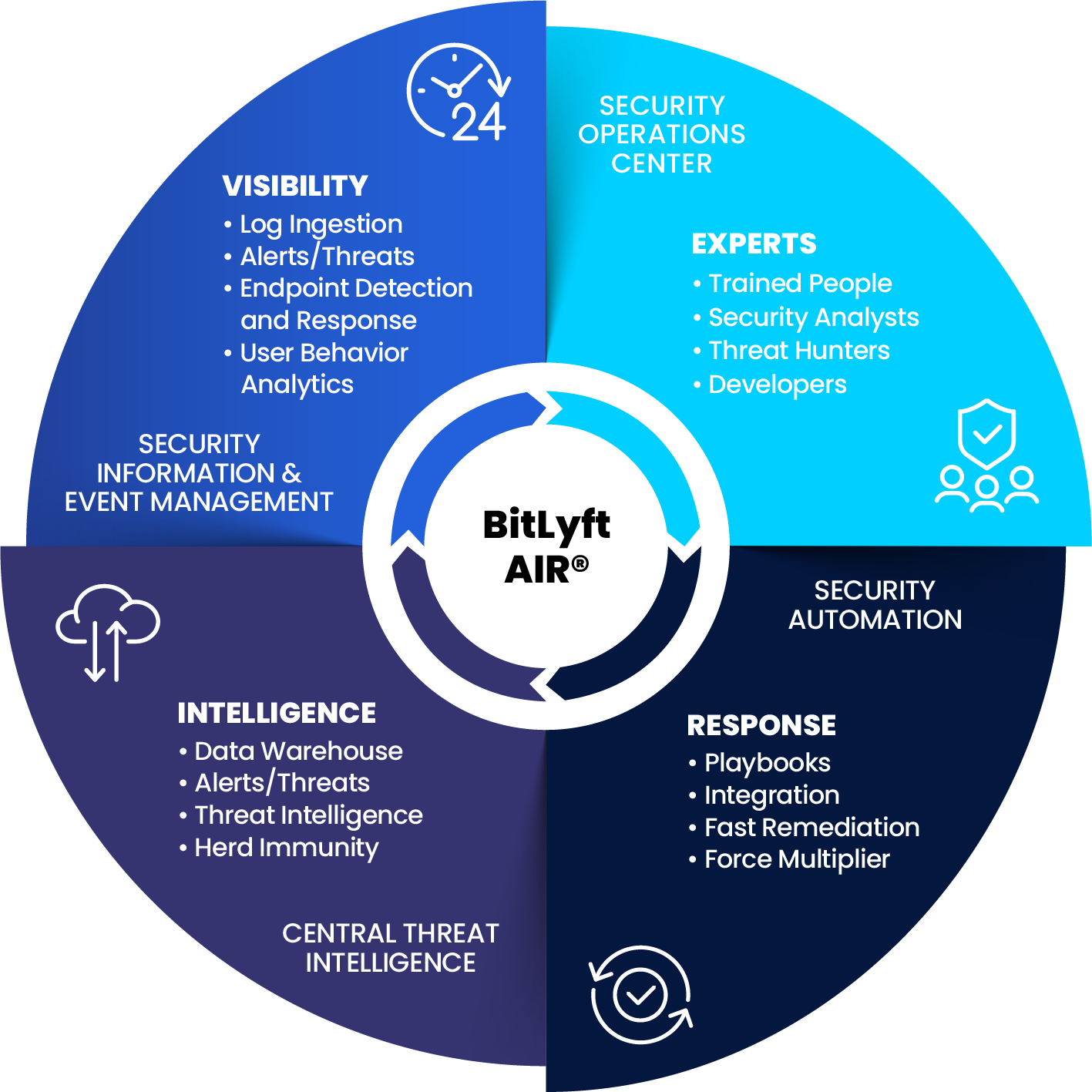 Real Issues. Real Results
See how BitLyft is helping customers across all industries gain the advantage against cyber attacks.
Cybersecurity Resources for Financial Institutions
WHAT OUR CUSTOMERS ARE SAYING
"We know BitLyft is in the background watching and waiting, monitoring threats. They let our team know as soon as they detect any threats and are able to shut it down."
General Manager,
Manufacturing
"Working with BitLyft has allowed us to not worry about this part of our business as much. We feel like our security is being taken care of, so we can give more attention to other tasks."
Chief Information Officer,
Higher Education
"It's a great partnership. I feel like BitLyft is part of our staff and we are working together in our cybersecurity efforts."
Chief Information Officer,
Higher Education
ARE YOU READY TO STRENGTHEN YOUR BANK'S CYBERSECURITY?
Don't let your financial institution fall victim to a cyber attack. Protect your customers, employees, and sensitive data with managed detection and response. Book a demo today to see how it works.