MANAGED DETECTION AND RESPONSE FOR MANUFACTURING
Secure Your Manufacturing Operation with BitLyft's Expertise in MDR Security

Increase your manpower,
without hiring additional staff

Secure your organization,
without purchasing additional tools

Maximize your budget,
without obtaining additional dollars
THE STATE OF CYBERSECURITY IN MANUFACTURING:
Manufacturing companies face a growing number of cyber threats, including data breaches, ransomware, and supply chain attacks. These threats can lead to significant financial and reputational damage, as well as disruption to operations. With sensitive data, valuable intellectual property, and critical infrastructure at risk, it's essential for manufacturers to prioritize cybersecurity.
TOP CYBER THREATS FOR MANUFACTURERS
DATA BREACHES
Data breaches can be catastrophic for manufacturers, as they can result in the theft of valuable intellectual property, sensitive information, and financial data.
SUPPLY CHAIN ATTACKS
Supply chain attacks can be particularly damaging for manufacturers, as they can compromise the integrity of the production process and lead to defective or unsafe products.
INSIDER THREATS
Insider threats, whether intentional or accidental, can pose a significant risk to manufacturers, as they have access to sensitive data and critical infrastructure.
KEEP YOUR PRODUCTION LINE SAFE WITH BITLYFT'S EXPERTISE IN CYBERSECURITY FOR MANUFACTURING
As a manufacturing company administrator, you understand the importance of protecting your critical assets and sensitive data from potential cyber threats. At BitLyft, we understand the unique challenges and threats facing the manufacturing industry. Our team of experts has years of experience in the industry, giving us the ultimate advantage to help you stay secure. With our comprehensive cybersecurity solution, BitLyft AIR®, we can help you mitigate potential threats and protect against data breaches.
BITLYFT AIR®
Managed Detection and Response
As a manufacturing company, protecting your critical assets and sensitive data from potential cyber threats is crucial. BitLyft offers a comprehensive cybersecurity solution that can give you peace of mind. Our Managed Detection and Response (MDR) security service and platform, BitLyft AIR®, offers advanced protection against cyber attacks, combining innovative automation with our team's expertise to deliver unparalleled security to your organization. With BitLyft, you can ensure that your manufacturing company is safe and secure, while also staying within your budget.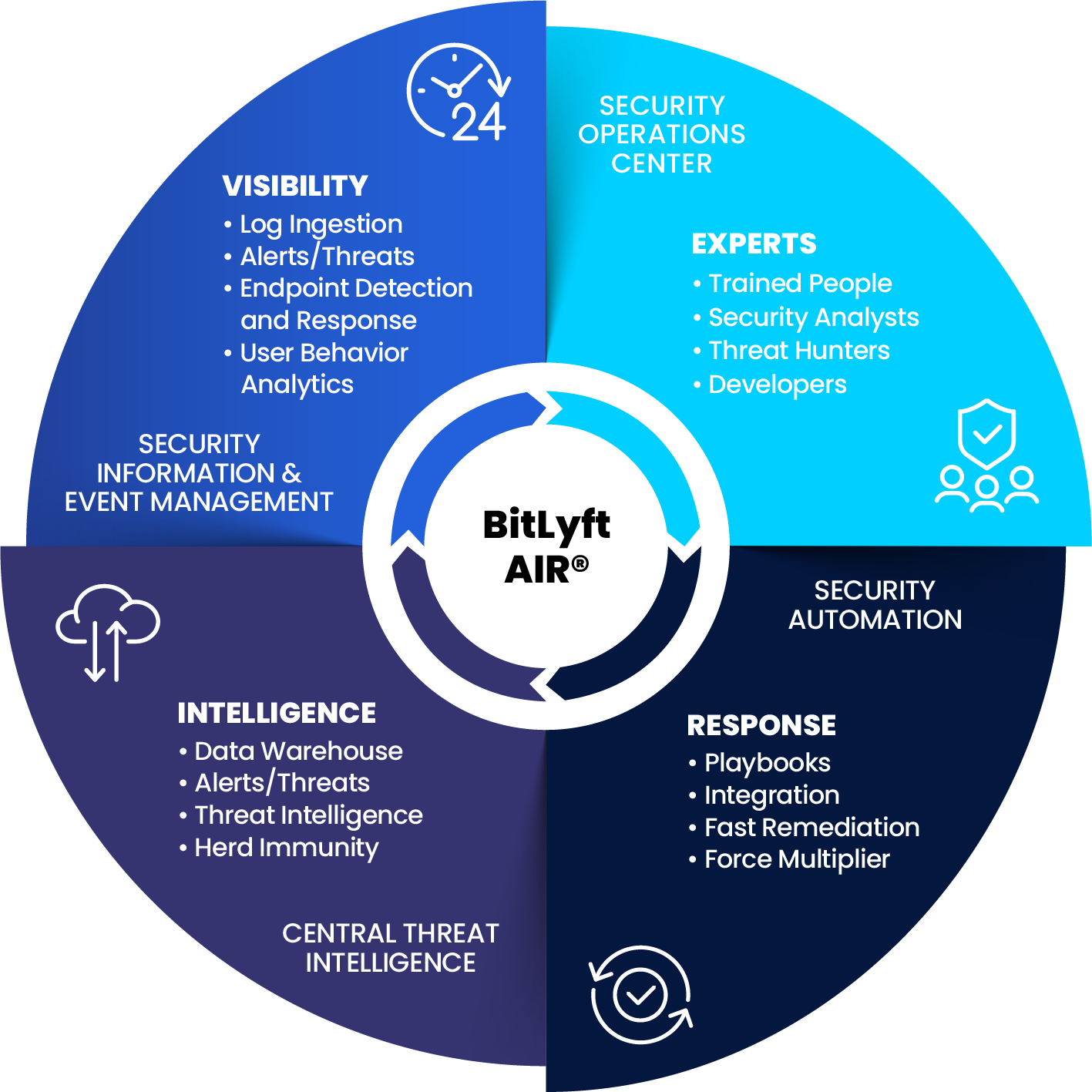 CASE STUDIES: SEE HOW BITLYFT IS HELPING ITS MANUFACTURING CUSTOMERS STAY AHEAD OF CYBER ATTACKS
BitLyft is helping manufacturers all across the country to strengthen their cybersecurity defenses with managed detection and response.
BitLyft Protects an International Department of Defense Supplier From Cyber Attacks
The challenges:
Implementing technologies to automate work
Strengthening existing infrastructure
Creating plans to identify security issues.
Cybersecurity Resources for Manufacturing
WHAT OUR SMART MANUFACTURING CUSTOMERS ARE SAYING
"BitLyft is in the background watching, waiting, and monitoring threats. They let our team know as soon as they detect any threats and are able to shut it down."
Kyle Smith,
General Manager
UMBRAGROUP
"BitLyft wanted to learn everything about our business and adjust to what we needed."
Joe Sheridan,
US Director of IT
Manufacturing
ARE YOU READY TO ENHANCE YOUR OPERATION'S CYBERSECURITY?
Don't let a cyber attack stop your production line. Protect your sensitive data, intellectual property, and critical infrastructure with BitLyft AIR®.